Patrick Mahomes Throws Pass to Bemused Chiefs Left Tackle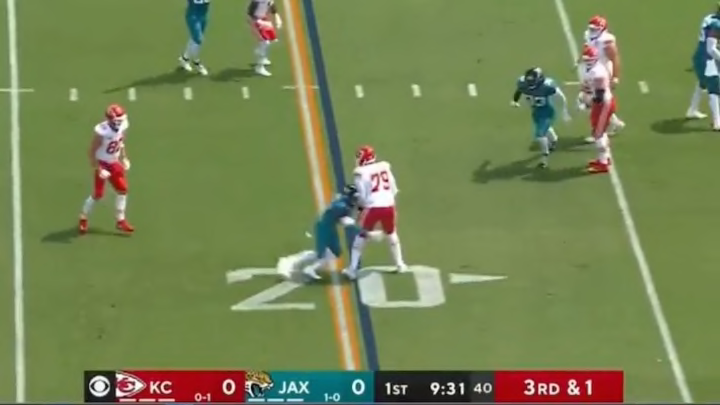 Chiefs-Jaguars /
The Kansas City Chiefs are trying to avoid starting off 0-2 on the year today as they take on the Jacksonville Jaguars at EverBank Stadium. The playoff rematch featured a slow start, however. The Jags got the ball first and got one first down before they had to punt, pinning the Chiefs at their own 10-yard line. Kansas City then found themselves facing a third-and-1 at the 19-yard line when Patrick Mahomes tried to make some magic happen and made a goofball error instead.
The Chiefs tried for a screen on the play (for some reason) and the Jacksonville defense quickly sniffed it out, blowing it up almost immediately. Mahomes ran around to try and make something happen. Eventually he thought he spotted an open man right at the first down marker and unloaded a pass.
The problem was that the "open man" was actually left tackle Donovan Smith, who was as confused as anybody when he found himself with the ball. Then he got tackled to add insult to injury.
This is proof that it literally happens to the best of us. Patrick Mahomes is out here throwing serious passes to his own lineman. Perfection ain't easy and even he can't reach that level every time.
A flag was of course thrown on the play for illegal touching by an ineligible receiver. The Jaguars declined and the Chiefs had to punt. Next time I'm sure Andy Reid will make Smith eligible.