'Get Up' Panel Unsure If Patrick Beverley and Russell Westbrook Deserve Championship Ring No One Has Won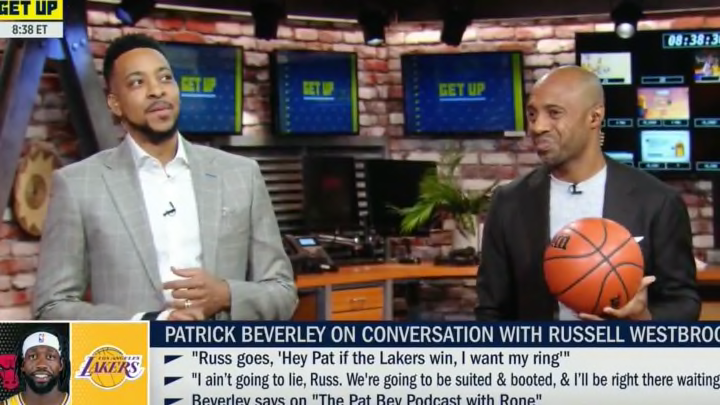 Do Patrick Beverley and Russell Westbrook deserve championship rings if the Los Angeles Lakers win the NBA Championship? That's the question posed by Ryan Smith to CJ McCollum and Jay Williams on Get Up this morning. Not to suggest anyone is getting ahead of themselves here, but this discussion took place with the Lakers holding a 1-0 lead in the second round of the playoffs.
Do PatBev and Russ deserve rings? Sure. They were on the team this season and teams seem to give those guys rings. You may recall the Cleveland Cavaliers offered Anderson Varejao one when they beat the Warriors in 2016. He turned it down, but then accepted one from the Warriors the next year.
I can't really think of any other cases of this being an actual discussion, because really, who cares? It's not like they get to be in the locker room for the celebration or ride on a fire truck in the parade. This is like an Non-Fungible Title.
The question is how will history remember Beverley and Westbrook if the Lakers win the title. Will they get a little ring icon on their season on Basketball-Reference? Will it say NBA Champion on their Wikipedia page under "Career highlights and awards?" In Varejao's case, it does not.
If the Lakers traded LeBron James next season and then went on to win a title with Anthony Davis, LeBron would be offered a ring, but no one would give him actual credit for winning that ring.
Not that it matters. This is a thought exercise based on a conversation that didn't even take place on a podcast. It's based on a story told on a podcast about a conversation that took place offline. The Lakers might not win another game in this series, let alone win the title. This is exactly why I sometimes think twice about embracing debate.
UPDATE: Of course this was revisted on First Take. There are still a month's worth of games to talk about!