Pat McAfee Blasts Grant Cohn After Javon Kinlaw Altercation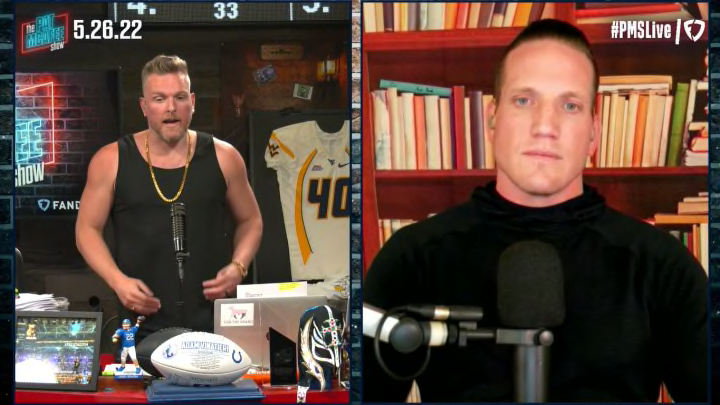 Pat McAfee and A.J. Hawk on the Pat McAfee Show /
If you've been on the Internet the last few days you've probably heard about Javon Kinlaw going after Grant Cohn, a credentialed media member covering the San Francisco 49ers. Kinlaw confronted Cohn -- who is basically a professional troll -- for things he said about the Niners' defensive tackle creating a big stink. Pat McAfee weighed in on this story Thursday and he absolutely did not hold back on Cohn.
McAfee repeatedly blasted Cohn and wondered aloud how in earth he wound up getting credentialed and how he's allowed to be anywhere near the team. It was a great segment and McAfee certainly hit all the right notes.
Here's what he had to say:
While McAfee says he thinks Kinlaw made a bit of a mistake going at Cohn in the manner he did, he fully agrees with the sentiment. And Kinlaw's teammates completely agree with him. Cohn was basically asking for this by talking trash about players then backing down when they confront him in person.
Honestly, I have no idea how Cohn is credentialed by the 49ers and the NFL. He's not a reporter, he's just a guy who constantly trolls and goes after players. How is a guy like that allowed in the locker room? Both the Niners and the league have to answer for that.