Pat McAfee Wanted Some Damn Credit for Breaking Aaron Rodgers Story
Last night's Hard Knocks premiere seemed to credit Colin Cowherd.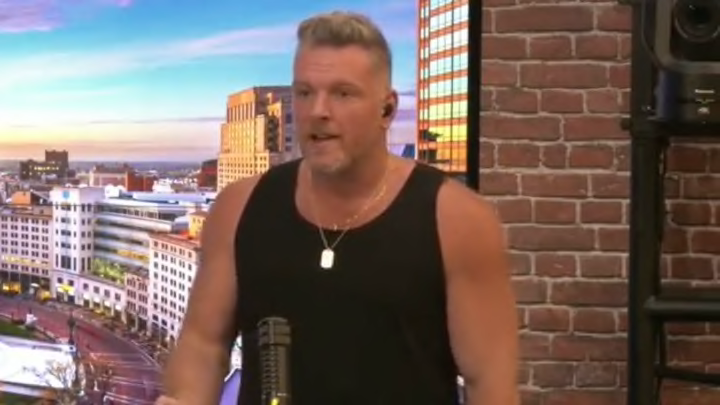 Hard Knocks debuted last night and everyone got their first chance to see how Aaron Rodgers acts when there are a bunch of cameras trained on him. His arrival in New York after posting a Hall of Fame run in Green Bay is the biggest storyline of the NFL season and was therefore the primary focus of the documentary's first episode. At one point they showed how this all happened and who broke the news. Somehow without giving proper credit to Pat McAfee, who has the closest relationship with Rodgers of anyone in the media and quite famously secured the announcement on a ridiculously popular livestream.
McAfee understandably did not much care for that and spoke about it on his show today.
"The biggest moment in our show's history, top-10 stream in the history of the internet, and we are very thankful that Aaron chose to do that," he said. "Obviously, we have a good relationship with him. He breaks the news that he's going to the Jets. They just kinda gave that on Hard Knocks to Colin Cowherd and I think Craig Carton and Nick Wright as well. NFL Films, I thought we had a good relationship. What the f--- is that?"
"I was a little taken aback. I was a little perturbed, sent a text or two to NFL Films like, 'What the f**k?' Do you guys have a vendetta against me?" McAfee added. "Is Colin paying you directly, is Nick Wright paying you directly? Is Craig Carton paying you directly? What the f--- did I do … but they said that's not the case, there was a misunderstanding, miscommunication."
Though quite salty, McAfee was able to power through the slight and enjoy the rest of the episode. It's tough to really understand what type of misunderstanding led to all this — and to be perfectly honest no one here watched the show and knows the exact framing — but it is troubling anyone runs afoul of the Big-J journalism code to give credit where its due. Probably nothing as wild as a wide-spread conspiracy where top FS1 talent are shelling out money to get the shine on scoops they never had, even though that's fun to imagine.