Kirk Cousins Injures Ankle on Non-Contact Play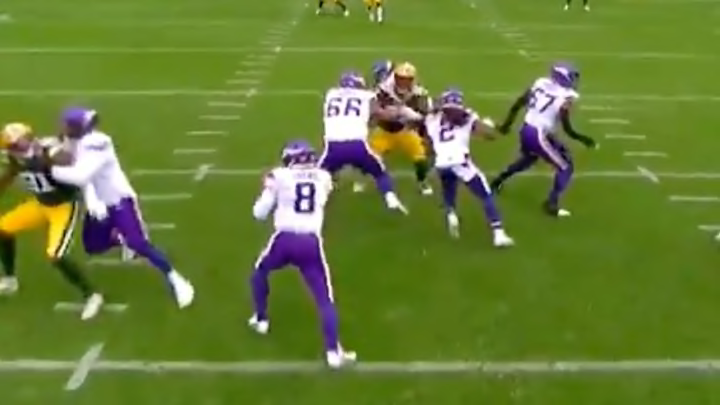 Kirk Cousins /
For one of the few times in the last 20 years the Minnesota Vikings were having a great day at Lambeau Field against the Green Bay Packers. Kirk Cousins led the offense to 24 points in the first three quarters and the defense clamped down on Jordan Love, holding the Packers to 10 points total entering the fourth quarter. And then things went wrong for Minnesota. Perhaps horribly wrong.
Cousins and the Vikings' offense were facing a third-and-long in Green Bay territory. After taking the snap Cousins went down pretty quickly. The Fox Sports cameras then caught him hopping to the sideline, clearly in great pain, and eventually he got on the cart, but it didn't take him to the locker room.
A slow-motion replay of the third down appeared to show Cousins hurting his ankle or lower leg while taking a step up in the pocket. Which is very, very not good. The Vikings officially ruled it an ankle injury.
Here's a view from behind:
As pointed out it might be an Achilles injury. It does look something like what happened to Aaron Rodgers back in Week 1. Which would be a horrible blow to Cousins and the Vikings.
To make matters worse the Vikings' backup QB, Nick Mullens, hit the IR a few weeks ago so Cousins was placed by rookie Jaren Hall. Hall fumbled on his first possession after the defense made a goal-line stand.
A whole lot of not-great news for the Vikings just now. Brutal.