Cheese Mascot Brutally Stiff-Arms Child During Halftime of Packers-Falcons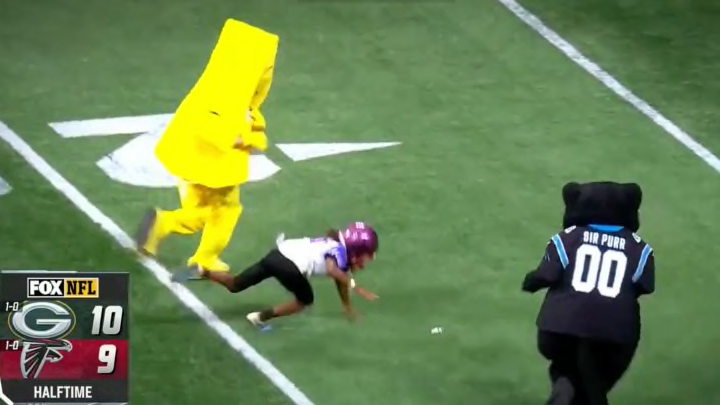 Cheese Mascot /
The Atlanta Falcons have a halftime bit during the regular season where they invite a Pee Wee football team to come and play on the field against a team of mascots. As you might imagine this leads to more than a few Not Top 10 moments. On Sunday there was such an event as the Falcons took a breather during their contest against the Green Bay Packers.
Probably because their opponent was the Packers the mascot team had a piece of cheese on it. The Packers do not have an official mascot (like the Carolina Panthers with Sir Purr, who was also on the field) so I guess they threw the cheese in there as a nod to the Cheeseheads thing. Or whatever. Anyway the cheese mascot showed no mercy out there and stiff-armed a small child on a toss play.
Given how many times we've seen mascots toss kids around like this it's shocking this is still a thing. The kids probably find it funny and are generally made of rubber so no true harm being done but we're talking about grown men running over elementary schoolers here.
Content, but at what cost? Something for Atlanta to think about.