Justin Herbert Spikes Football, Screams at Teammate After Delay of Game Penalty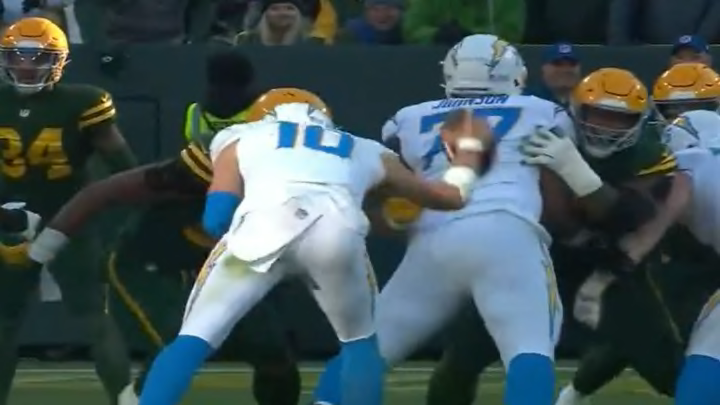 Justin Herbert /
Justin Herbert is not one for showing much emotion on the field but he hit his breaking point today. Leading his Los Angeles Chargers teammates against the Green Bay Packers at Lambeau Field, Herbert freaked out after a delay of game penalty on a big drive in the second half.
The Chargers were facing a first-and-10 in Packers territory halfway through the fourth quarter trailing by three points. Herbert was yelling at his center to get the snap off in time but failed. After the whistle blew Herbert spiked the football and screamed at his teammate before getting back in the huddle.
A bit shocking to see that from Herbert but the frustration finally boiled over after a day packed with mistakes by everybody except him. Keenan Allen dropped the most wide-open touchdown pass you'll ever see in the first half. Austin Ekeler fumbled at the goal line in the second half. Herbert was doing everything he could to keep his team in the game and his co-workers kept blowing it. Thus, a spiked football and an explosion of anger was the only natural outcome.
It is the same old story for these Chargers. Herbert is close to perfect, leading his team in both passing and rushing yards, yet is let down by the folks around him. Honestly, it's about time he started showing his frustration.