Kareem Jackson Ejected For Another Dirty Hit vs. Packers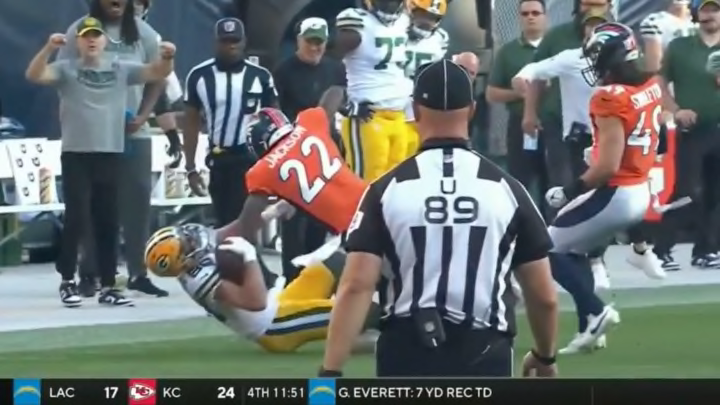 Kareem Jackson /
On Sunday, the Denver Broncos hosted the Green Bay Packers and Kareem Jackson got himself ejected again. Yes, again. After the Denver safety got thrown out of the team's Week 2 contest against the Washington Commanders, he once again went high when making a tackle and got thrown out.
The Packers were down by six and driving to take the lead when Jordan Love found rookie tight end Luke Musgrave. As Musgrave caught the ball and turned around Jackson came flying in and drilled Musgrave high. It wasn't quite a helmet-to-helmet hit but it looked like Jackson led with his helmet and when you take his well-earned reputation into account, it's only logical the refs threw him out.
Heading into today, Jackson had been fined four times this season for dirty hits. Four times! In six weeks! And he'll be adding a fifth once the league reviews this one. It wasn't as bad as his Week 1 cheap shot that knocked Jakobi Meyers out or the Week 2 hit that took out Logan Thomas, but it was still bad.
One has to wonder how long the NFL will let this guy take the field. He's a walking hazard and has already seriously injured somebody. It is apparently only a matter of time until it happens again.