Do Not Feel Even the Tiniest Bit Sorry For Spoiled Green Bay Packers Fans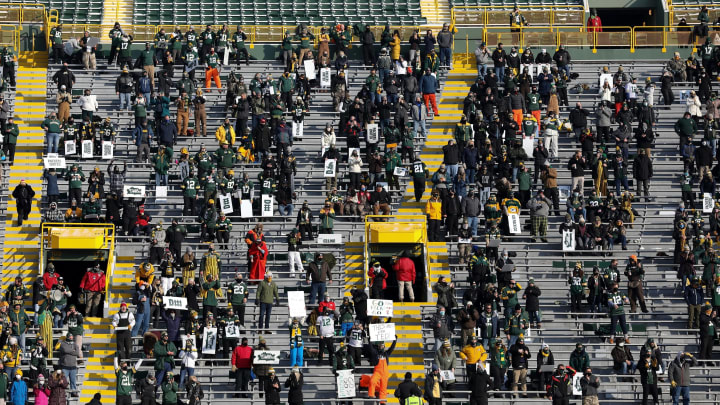 Dylan Buell/Getty Images
Peter Schrager has identified Green Bay Packers fans as the biggest losers in the awkward Aaron Rodgers situation. And to be perfectly fair, they're not very happy about it as Jordan Love is simply not a suitable replacement for a generational talent with plenty left in the tank. Old wounds have been reopened as a similar situation played out early in Rodgers' career when he supplanted Brett Favre, a gunslinger prone to playing contractual chicken with the franchise in-between tractor rides. So one can understand the frustration.
On the other hand, allow me to offer my most sincere condolences with the most sarcastic eyeroll imaginable. Let me affect my best hardo sports-radio voice and implore them to call the Wah-bulance via a spotty connection during a lunch break.
Because seriously, get out of here to any Green Bay supporter trying to play the woe-is-us card here.
Every other franchise not named the Patriots would gladly retroactively crawl over broken glass in the muni lot for 30 years of Brett Favre and Aaron Rodgers. Three decades of prolonged stability and high-yield from the quarterback position in the NFL is Ahab's freaking white whale. It may never happen again!
If the good and decent people of Wisconsin and parts adjacent can look this incredible gift horse in the mouth and find victimhood, then they've lost all tethering to reality. Under Favre and Rodgers they've made the playoffs in 21 of the past 28 years, won 23 postseason contests, made the NFC Championship Game 10 times, played in three Super Bowls and won two Lombardi Trophies.
Dealing with the occasional player-front office friction is a minuscule price to pay for this type of success. And the first time around, with Favre, can hardly be counted as some heart-wrenching event detrimental to the bottom line as the consolation prize was a shiny new toy named Aaron Rodgers. Worked out pretty well. Just like the current drama could all be water under a bridge.
Of all the fanbases in sports deserving of sympathy, one could make a reasonable argument that the Packers are near the very bottom among hundreds. Maybe it'd be prudent if they read the room a bit, checked in on their neighbors. The Detroit Lions, for instance, have one playoff win in 65 years and wasted the best quarterback in team history just like they wasted the best running back and wide receiver. The Chicago Bears' inability to secure competent quarterback play is legendary. They have four playoff wins since Favre's rookie year. The Minnesota Vikings have seen big dreams end in the hands of luminaries such as Kirk Cousins and Teddy Bridgwater.
We're all prisoners of the moment and it's perfectly reasonable to feel some twinge of empathy for fans confronting the reality that they may no longer get to root for Rodgers. But, good Lord, let's have some perspective here. The Packers have been exceedingly privileged and secure since the damn Clinton Administration. Time to show some of that trademarked toughness you're always bragging about for once.