Pablo Torre Shocks 'Around the Horn' Panel By Revealing He's a 'Hand Lotion in the Hair Guy Now'
Want to know how Pablo Torre and Bob Ryan manage to look so good?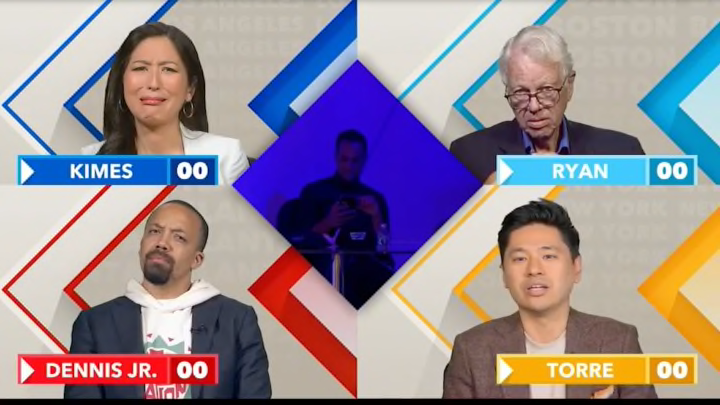 Bob Ryan, Mina Kimes, Pablo Torre and David Dennis Jr. joined Tony Reali on Around the Horn on Tuesday. Before the show started they exchanged virtual water cool talk for cooler water chat by asking Bob Ryan about the shower situation at his summer haunt.
The legendary Boston Globe writer explained that the place he stays in Maine during the summer doesn't have running hot water, so his only option is a cold shower. He then proceeded to explain he jumps in, spins around, soaps up and rinses off in about 90 seconds. While Torre called this story "a borderline Dan Orlovsky," can you blame Bob Ryan here? It's cold. Ryan's efficient. An old guy taking a quick shower isn't any weirder than what Torre then tried to explain about being "off shampoo."
If you've ever had questions about why Pablo Torre's hair looks so damn good, we finally have an explanation.
"I'm off shampoo. I'll wash my hair, but I'm not going to... I need these oils, man. I need my essential oils."

"The shampoo dries me out, man. Yeah. I mean granted, I'm also a hand lotion in the hair guy now. I'm just throwing stuff in there, trying to get viscosity up."
This is a rough clip for Big Shampoo. Between Bob Ryan not savoring his daily lather to Pablo Torre being completely off the stuff, shampoo has lost two of sports writing's most prominent hair influencers. And ATH may regret posting this at all if people stop listening to the content of the arguments and instead focus their attention on trying to guess what Torre put in his hair that morning. This could become a distraction because that mute button can't silence Torre's hair. It has tremendous volume.