Orlando Bubble Is the Best Chance For Rockets' Small Ball Experiment to Succeed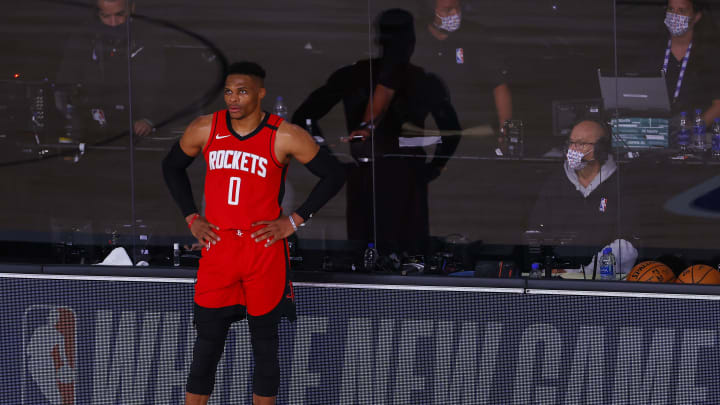 Russell Westbrook / Mike Ehrmann/Getty Images
The Houston Rockets' offensive philosophy since hiring Mike D'Antoni to run their unit has been relatively simple: put as many shooters around James Harden as possible, then get out of the way. Either Harden scores, gets fouled, or creates an open three for one of his teammates. Wash, rinse, repeat. It's led to many an offensive record set by the Rockets and plentiful regular-season success, although they've yet to climb the final part of the mountain with zero NBA Finals appearances in that timeframe.
This year, Daryl Morey took that idea to its logical extreme. In trading Clint Capela at the trade deadline in February, P.J. Tucker was relegated to starting center. The 6-foot-7 Tucker is as tough as they come and an absolute maestro of a corner-three shooter, but the fact remains that in sending out Capela, the Rockets fully committed to embracing a lack of size and a roster exclusively made up of players shorter than 6-foot-10.
Early returns were about what you'd expect. Houston was murdered on the boards, but the pace of play was sky-high and they somehow continued to push what we thought was possible when it came to engineering an offense built entirely around three-point shooting. Russell Westbrook, in particular, was putting up some absurd statlines with not a single teammate within 10 feet of the paint. The grand experiment was cut short when the season was postponed, but the Rockets are back to their old tricks now down in Orlando, and the bubble may very well be the best chance they have to succeed.
The biggest issues with this kind of team construction were always going to be twofold: rim protection and getting worn down. The rim protection issue isn't as big as one might think. There are very few big men in the league today so dominant that it's game over if you can't match them up with a big man of your own, and as long as Houston communicates well on the perimeter, they can survive. The bigger problem was going to be the effect of throwing Tucker or Jeff Green in the paint to fight with centers for rebounds every single night. The attrition would have eventually shown.
Now, though, that's not a worry. Sure, the Rockets' wings acting as big men will get tired from duking it out down low, but it's nothing compared to the theoretical impact of doing so for all of March and April before launching into the playoffs after already playing most of a season. Tucker and Green will never be fresher than they are right now after four months off. To prove that point, they've gotten off to a quick start in the seeding games.
They blitzed the Bucks in the last few minutes of Sunday night's contest to come away with a win, which featured the mythical James Harden elite defensive sequence when it mattered most. They were outrebounded as a team by 26 (!), with only 43 boards to Milwaukee's 69. But they played stingy perimeter defense, only giving up nine three-pointers on 35 attempts. It was more of the same in their first game against Dallas, getting outrebounded by 15 but shooting well enough from deep to hang in long enough to squeak out a win.
This doesn't seem like a viable strategy over a full season. Eighty-two games plus playoffs is just a lot for guys like Tucker to give up six inches and a few dozen pounds every single game. But right now, Houston can absolutely make it work. Offensive rebounding has been out of vogue for most of the decade and as long as they aren't constantly losing defensive rebounds, the size won't be an issue. If they run into Joel Embiid or Nikola Jokic, there's reason for concern. They'll be hard-pressed to contain Anthony Davis if it comes down to it. But this strategy was obviously never about containing opposing offenses, it was about maximizing Houston's own offensive potential. With a fully-rested team (including a dangerous-looking Harden), the Rockets can do just enough defensively while picking apart everything in their path offensively.
The bubble is the best chance for Houston to maximize this strategy without any of the long-term effects that would come with employing it for a full season. It's a frightening and exciting thought. We'll see what kind of dumb statistics Westbrook and Harden can garner.