The Orioles Suspended Play-by-Play Man Kevin Brown for the Dumbest Reason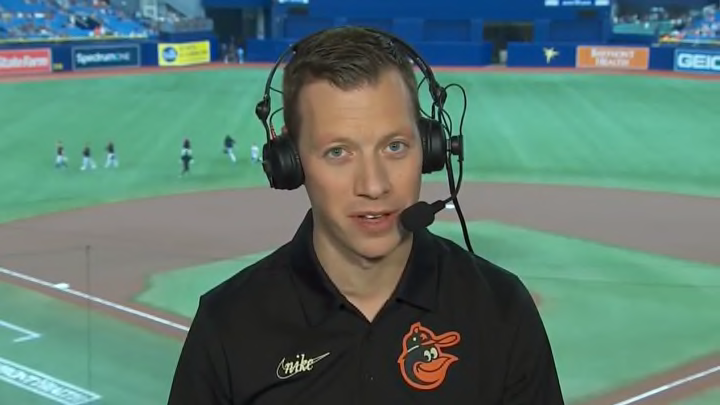 Baltimore Orioles TV play-by-play broadcaster Kevin Brown has been off-the-air since July 23. On Monday we learned why. And it's for the dumbest reason.
Brown's final broadcast was the end of a four-game series in Tampa Bay against the Rays. Before one of those contests, Brown pointed out that the Orioles hadn't had much success in Tampa over the past few years, but had seemed to turn things around this season. He then cited statistics to back up his claim. It was an interesting segment that showed just how far the first-place Orioles have come. Apparently, that got him suspended indefinitely.
Here's video of that segment:
That seems like a perfectly innocuous segment. According to Awful Announcing, Orioles owner John Angelos didn't like it and pulled Brown from the air. He switched to radio for a few games, but hasn't been heard from since July 26.
The Sports Business Journal's John Ourand has confirmed the report through multiple sources.
Browns suspension is one of the dumbest things I've ever heard of happening to a broadcaster. He listed facts, put them in context and discussed how the team he covers had flipped the script this season. An MLB owner's skin is so thin, he pulled the guy from the air. It's utterly ridiculous.
John Angelos and his father Peter have been terrible owners for years. They rarely give interviews or speak to the media, yet are willing to yank a media member from the air when their feelings get bruised.
Brown has been Baltimore's lead play-by-play guy since 2022, working on MASN and has done work for the team since 2019. He has also worked for ESPN, covering football, basketball and softball.