Ole Miss Security Guard Levels Young Woman Running Onto Field After Win Over LSU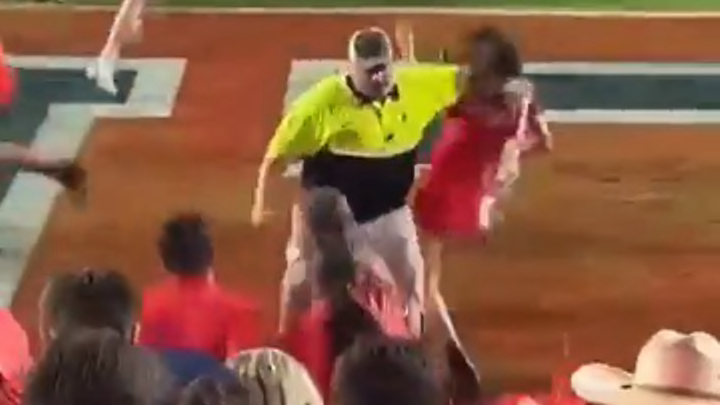 Ole Miss and LSU played an instant classic Saturday night, as the Rebels mounted a furious comeback to beat the Tigers 55-49, as the game went down to the final play. After Ole Miss secured the victory, the students assembled at Vaught-Hemingway Stadium in Oxford, rushed the field. One, lone security guard attempted to stem the tide of frat guys running through the end zone to midfield, and in the melee he absolutely leveled a girl who had followed suit.
Watching this older, overweight security guard attempt to stop thousands of 18 to 22-year-old students from rushing the field is truly something. He's basically bumping anyone who comes near him, then deliver's an elbow from hell to the neck of an unsuspecting coed.
Check it out:
He absolutely lit her up. That was ugly, poor girl. She was just trying to have a fun Saturday night and she crossed paths with what seems to be only security guard on the field. That's also about the least graceful fall I've ever seen.
Have to think the security guard is going to get a talking to after that.
This all happened over what was the best game of the college football season so far. The two teams combined for more than 1,300 yards of total offense. Just insane.