Latest NBA Leads
The Beach Is Better When It's a Little Cold Outside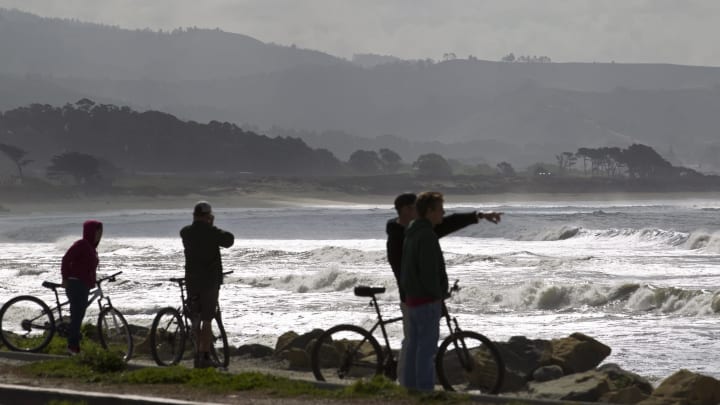 Kimberly White/Getty Images
Obi Toppin scored 4.2 points in 11 minutes per game during his rookie year for the New York Knicks and could turn into the type of player that makes the franchise look brilliant for snagging him with the eighth overall pick. Playing in his hometown, he's more than familiar with New York City's proximity to the Atlantic Ocean, Long Island Sound and Hamptons of all directions. But it doesn't sound as though he has much use for a good day at the beach based on his comments to the media today.
Not liking sand between one's toes is called the Reverse Stephan Jenkins. It's not as unusual as the masses, already out for blood on a contrarian take, would have you believe. The beach is a giant hassle. And it's a giant mess, as it tends to follow people home and end up in the carpet or bedspread. Then there's the oppressive sun, which wants nothing more than to char human skin and sap water and life from the body. The blinding brightness that feels like the first three seconds of the worst hangover in history.
Most would probably argue that frolicking in crystal clear water with an endless horizon is worth the cost. Honestly, I'm probably one of those people if forced to be binary on the issue. But I do have a related mild take that could perhaps change the way Toppin and those of like mind feel about the beach.
The beach is better in crisp, cool weather than warm weather.
As with all things, it's important to identify bias. Living on Lake Michigan means precious few swimming months. Since punting on enjoying the beauty for most of the year would be self-defeating, there's an incentive structure to reward those who don't mind a stiff breeze and bundling up. Obviously, we're not talking Eternal Sunshine of the Mind wind chill here, but something in the 45 to 60 degree range.
A brisk day at the beach usually means no crowds and more serenity. There's no pressure to be barefoot and shoes are pretty damn good at keeping sand from violating the cylinder. There's no worrying about applying sunscreen or bringing an umbrella. You simply walk out of your car, don your softest hoodie and marvel and how alive this meeting between lake and land is 365 days of the year. No one in the history of ever has regretted having a bonfire a stone's throw from lapping waves in sweater weather.
Will leave with this. When Tea Leoni's dad knew death was near in Deep Impact, where did he go? He went to the beach with a cozy-looking sweater and savored the last drops of misty wind coming off the water as the wave approached. Who are you to argue with Tea Leoni's dad?