Oakland A's Charging Fans $89 For Cardboard Cutouts in Stands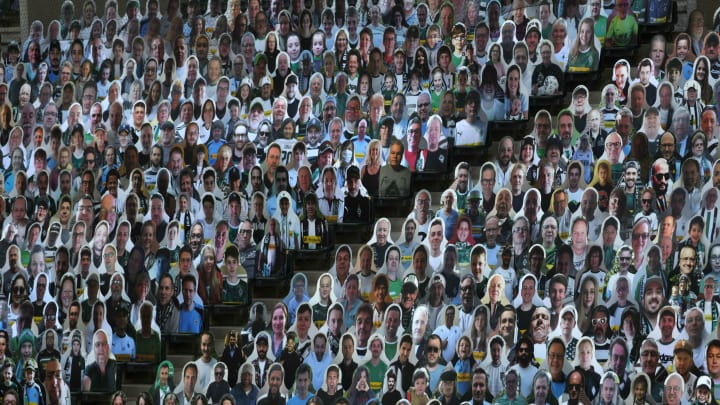 Cardboard Cutouts / INA FASSBENDER/Getty Images
Empty stadiums and fake fan noise seem to be the immediate future of live sporting events. The smartest move, but also a disappointing one. To offset that disappointment, most American sports teams will likely take a page out of the European soccer league's books and allow fans to purchase cardboard cutouts of themselves to place in the stadiums.
The Oakland Athletics put out their prices recently for such cutouts. They're charging $89 per cardboard cutout to have it in the stands for the year, per the team website. You can also upgrade for $40 and have your cutout placed in a "foul ball zone," where you will get sent a baseball if your cutout is hit by a foul ball:
"In accordance with local health and safety guidelines, fans will not be permitted to attend games at the Coliseum. However, A's fans still have the chance to grab a seat at the Coliseum through the team's Coliseum Cutouts program. Cutouts are $49 each for A's Access members, $89 each for general fans, or $129 for a Foul Ball Zone cutout (limited availability). If a cutout in the Foul Ball Zone gets hit with a foul ball, we will send the ball to that fan! Plus, with every purchase of a cutout, you'll also receive two complimentary tickets to our first exhibition game at the Coliseum during the 2021 season. Proceeds from Coliseum Cutouts benefit the Oakland A's Community Fund."
At first, I thought that was the per-game rate and was both shocked and horrified. But 89 bucks for 60 games is pretty reasonable, especially if the money is going to charity.
This will probably be around the going rate for these cutouts. Hopefully every team will donate proceeds to charities. That is anything but a guarantee, unfortunately, with the money everyone stands to lose without revenue from the stadiums. One can hope, though.
It's interesting that there are a lack of details about where, exactly, these cutouts will go. If I fork over some of my money to have a cardboard cutout at Fenway, am I getting thrown behind one of the grandstand poles on the first-base line? That would be lame. But the prime seats behind home plate and such will probably be reserved for corporate sponsors, so it's a moot point anyway.
At the very least, let's get excited about how creative the fans will get with their cutouts. A world of possibilities.