O.G. Anunoby Could Only Laugh About Being the Little Guy in Victor Wembanyama's Latest Highlights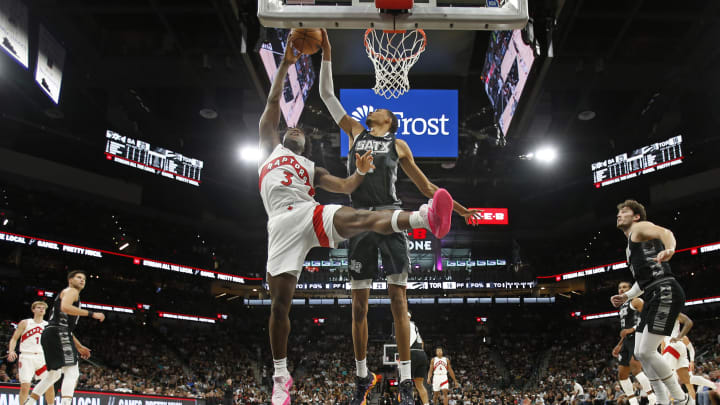 Toronto Raptors v San Antonio Spurs / Ronald Cortes/GettyImages
Victor Wembanyama blocked a career-high five shots Sunday afternoon, but the Toronto Raptors were able to beat the San Antonio Spurs in overtime, 123-116. The player who was the victim of two of those blocks was O.G. Anunoby who otherwise had a good game, scoring 24 points on 16 field goal attempts. It could have been more, but Wemby is too tall, as Anunoby explained after the game.
O.G. Anunoby is listed at 6-foot-7. He's in his seventh season in the NBA and he's played big minutes for most of them. He's not a big man, but there can't be many guys in the league who make him feel small. Then nearly a decade into your career you attempt a wide-open three from the corner and some kid throws it into the stands while your teammates sit behind and try not to react to what they just saw.
If you pause the video at any point and look at the crowd you'll see plenty of mouths agape. And some very wide eyes on the Raptors bench. Standard stuff for most Wemby highlights. Kind of like the reaction Anunoby himself had when he challenged Wemby at the basket earlier in the game.
He tries to bump the Slender Basketball Man and use the basket to protect him as he attempts a layup, but Wemby simply took a step back and did a calf raise and snatched it.
And this is how it is every night as the tallest human beings alive deal with an even taller human, sometimes for the first time in their lives. It's incredibly entertaining to watch. And it must just be hilarious to experience for now. I have a feeling eventually the awe will be replaced by frustration. But until then, enjoy the laughs.