Nomar Garciaparra Broke Out Some World Class Finger Guns After Predicting Austin Barnes' First Homer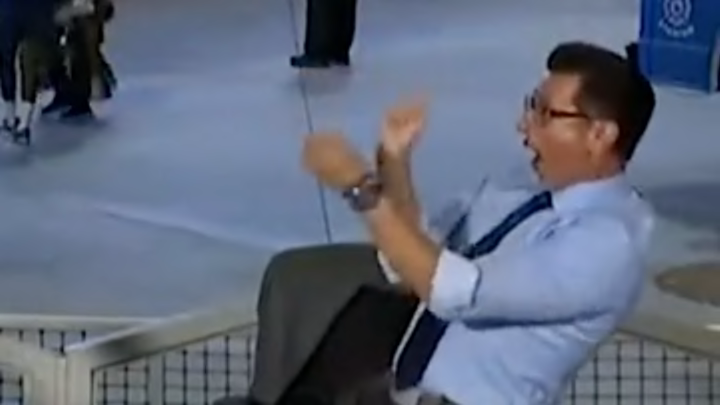 Los Angeles Dodgers catcher Austin Barnes had not hit a home run in the 2023 season going into last night's game against the Milwaukee Brewers but that did not stop Nomar Garciaparra from predicting big things on television during a Spectrum Sportsnet Call Your Shot segment.
"Today, Austin Barnes goes deep," the analyst said with the conviction of Bill Pullman giving a speech about thwarting aliens and saving the planet. "He hits one out."
Barnes, of course, because you're reading a post about it, did blast one over the fence in the bottom of the eighth inning for the game's first and only run.
Garciaparra, waiting in the wings, was understandably amped and did the type of exaggerated finger guns you might suspect to see Jason Sudeikis employ in a movie where he's walking into a neighborhood grille with his dirtbag friends.
When you predict someone who hasn't mashed a dinger will finally mash a dinger and he mashes a dinger, there's no reason to hold back. You ride that emotion for all its worth. It's also sort of refreshing to see someone do something like this without a gambling tie-in, so if there is one we'd prefer not to know about it.