'Video Game' Shot of Nolan Arenado Taking the Field Is Pure Cinema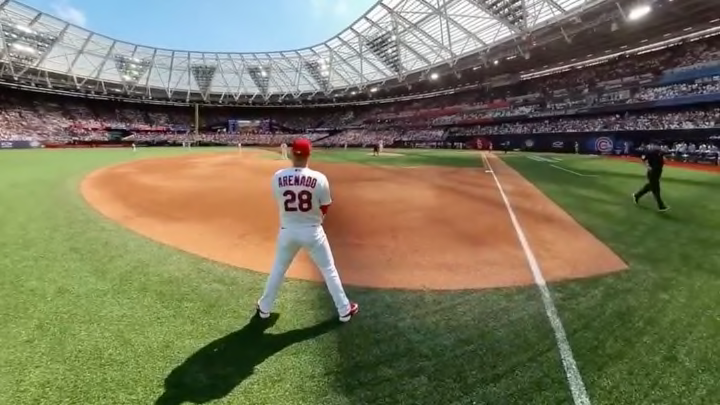 The Chicago Cubs and St. Louis Cardinals played a little series over in London — which arguably has better pizza than anything you'd find in the rival cities — over the weekend and Major League Baseball made a huge deal about it. FOX got the Saturday game and introduced Derek Jeter to make all of those talking box deliveries worthwhile. ESPN had yesterday's contest and upped the ante by presenting one of the coolest camera angles and extended shots you'll ever see while parking in front of your television watching sports.
While the Cardinals took the field for the top of the first, all eyes were on standout third baseman Nolan Arenado as he ran out to his position. He didn't do anything crazy like an Ozzie Smith flip on his way, but it was still pure cinema.
Apparently a fair amount of viewers had difficult distinguishing reality from a video game, which is a bit concerning but also a testament to how impactful the shot was to viewers. The camera responsible for capturing it must have been absurdly expensive and there must have been a great vibe in the production truck knowing that they got to paint with this particular tool. Like Kristoff just deep in his bag during The Truman Show, only with slightly lowered stakes.