Nikola Jokić Calls Off Reporters, Answers All the Questions They Were Going to Ask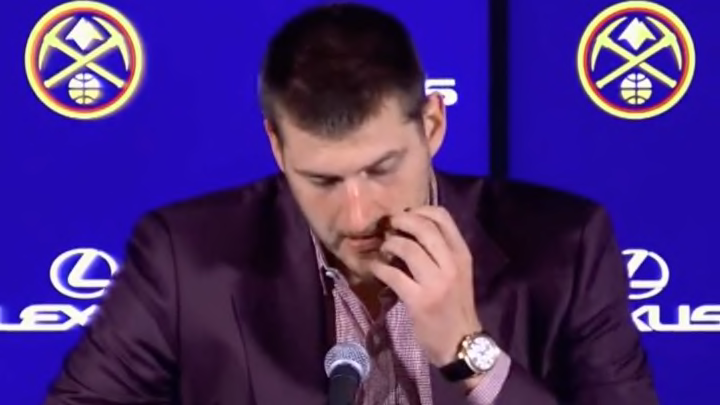 The defending champion Denver Nuggets are cruising right along and sit at 7-1 after taking care of the New Orleans Pelicans last night. Mike Malone's team was trailing at halftime but then outscored their opponents 75-45 in the second act. Nikola Jokić was once again down right spectacular, scoring 35 points on 15-for-24 shooting and filling out the other triple-double categories with 14 rebounds and 12 assists.
For a guy who doesn't seem to love basketball, he remains extremely good at it. And for a guy who would much rather talk about horses than the sport he plays professionally, Jokić sure went deep into the details postgame. Without the help of any leading prompts from reporters. Because much like when he's on the court, he was able to predict everyone else's next moves (or in this case, moves the reporters never got the chance to make because the reigning NBA Finals MVP wanted to monologue).
It's great to see this guy have ... well, I'm not sure this technically qualifies as fun, but it did spark a little joy. It's also why I'll always defend "talk about" as a question because, if they really wanted to, athletes could put together some thoughts on the game and share them. Everyone would be happier and it would be more efficient if more players did what Jokić did here but don't hold your breath waiting for it to catch on.
Unfortunately for Jokic, he didn't answer ever question without being asked and eventually let someone else speak. And he stuck around to answer those questions like a pro.