Nick Wright Losing Sleep Over Mavericks' Losses to Warriors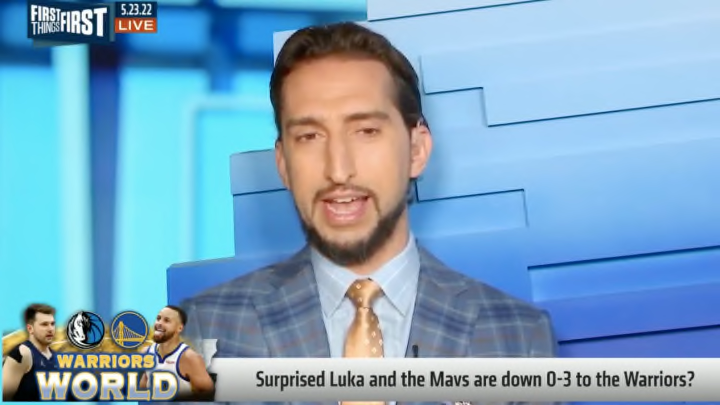 Nick Wright /
The Golden State Warriors beat the Dallas Mavericks for the third time in a row on Sunday night to take a commanding 3-0 lead in the Western Conference Finals. Luka Doncic certainly did what he could, posting a 40-point, 11-rebound statline, but the Warriors are coalescing at just the right time and are nearly unbeatable when their shots are falling.
Should the Mavericks lose this series, as history suggests they undoubtedly will eventually, they and their fans will mourn the missed opportunities. A 25-point lead in Game 2 that was given away, aided by a career night from Kevon Looney. A one-point deficit at halftime of Game 3 that was turned into an insurmountable 10-point deficit going into the fourth quarter on the strength of Andrew Wiggins' career night on both ends of the floor. Dallas had their chances. They just couldn't take advantage.
Much to the chagrin of Nick Wright, who is now one loss away from eating all the crow after adamantly proclaiming it was Doncic's time and the Mavs would end up in the Finals after dealing with the Warriors in five games. Mavs in five died a swift death after they blew Game 2. While Wright argued he isn't technically wrong yet because Dallas is still alive, he did admit things aren't looking good and revealed he's literally been losing sleep over the team's gaffes. Specifically, he's woken up in the middle of the night by dreams that the Mavericks capitalized in games two and three.
Wright probably speaks for all Mavericks fans. This Dallas team has never been this far but haven't gotten blown out of the water by the championship-tested Warriors. At several times throughout the series the Mavs looked just as good, if not better, than the Stephen Curry-led squad. But Golden State never flinched and punched back just when it looked like they were done. They did so in three straight games and that's why they're in the driver's seat.
Wright may very well get clowned for his Mavs in 5 prediction and that is simply part of the territory when you're on TV cooking up takes for a living. But it seems very possible we look back and acknowledge Wright was simply a little early on the Mavericks dominance train.