Nick Wright: James Harden Has Been One of the Worst Players in the League This Season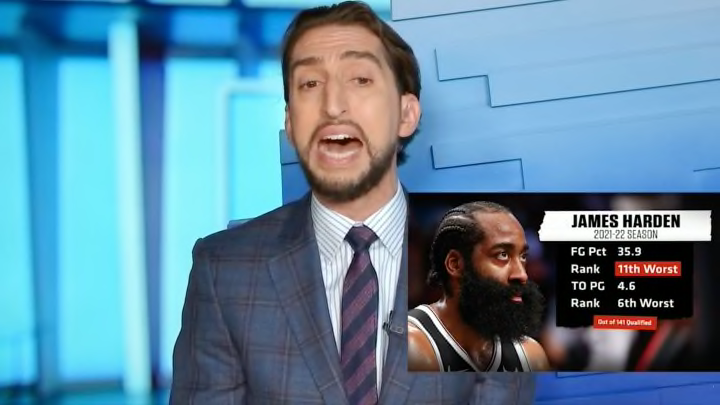 Nick Wright /
The Brooklyn Nets have not gotten off to a hot start out of the gate this NBA season, going 2-3 through the opening five games. This shouldn't be a matter of great concern because the Nets have Kevin Durant and James Harden. Durant has basically picked up where he left off, averaging 29.8 points and 10 rebounds per contest on 54 percent shooting from the floor.
Harden, though... Harden has been bad. And not just "shaking off the rust" bad. He's averaging only 16.6 points on 15.6 shots per game, an exceptionally low level of efficiency that we've never seen out of Harden. He's putting up eight assists per night but is also turning the ball over 4.6 times per game, the sixth-highest turnover percentage in the entire league. His plus-minus over the first five games is a ripe -8.4. The Nets have been losing, and losing badly, when Harden is on the floor.
This has led Nick Wright to proclaim Harden as one of the worst players in the league to this point.
Looking at the numbers, it is hard to disagree. Even the best players go through slumps, admittedly. But perhaps no player has been less effective while having the ball in their hands as often as Harden does.
The most concerning part about all this is that we can point to one very particular reason why he's struggling so much, and it is not a problem that can be fixed: he isn't getting to the line. Like, at all. It's not a slight drop-off. He's averaging three (!) free throws per game, four less than he did last year and six less than 2019-20. Harden has taken as many free throws as Eric Bledsoe and Cole Anthony so far this season. Malcolm Brogdon has taken 10 more FTA on the year than Harden.
And it's all because of the rule changes that took away Harden's bread and butter. He can no longer draw fouls by jumping into defenders after a pump fake, or by hooking their arms in the paint and going up for a shot, or by stopping suddenly when he has a defender behind him, or by kicking his leg out ever so slightly on three-point tries. No player has been more impacted, and both Steve Nash and Harden agreed that he was the "poster boy" for the changes. The former MVP has to change his style of play significantly after rising to the top of the league manipulating foul calls for a decade. An easy task, that is not.
Betting on Harden to figure it out is probably a good idea. His handles remain among the league's best and he is still capable of dishing out dimes every other possession. But for now, the Nets find themselves leaning on a high-usage point guard who scores with extremely low efficiency and can't do anything about it because without Kyrie Irving they can only count on Durant and Harden to take care of the ball. Normally that is a very envious position. So far this season, that hasn't been the case.