Nick Saban To Replace Mack Brown at Texas? More Plausible Than You Might Think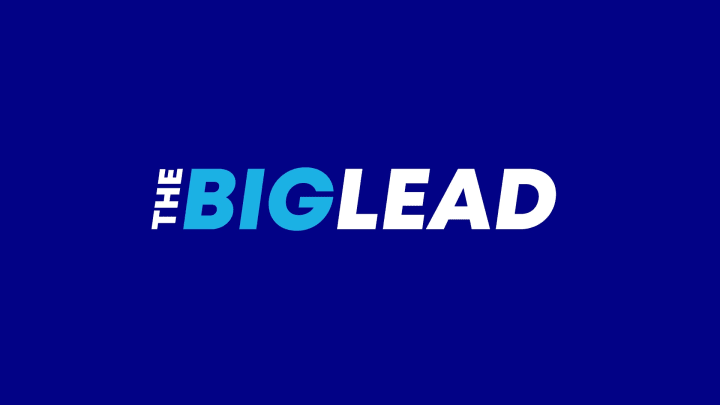 Nick Saban is college football's biggest coach, considering achievement. Texas is college football's program, considering dollars. Could the two combine to form the ultimate, ESPN-affiliated college football death star? It's more plausible than you might think. In fact, that scenario has been floated, independently, to The Big Lead by multiple college football sources.
Will Texas be looking for a new coach within the next few years? Almost undoubtedly. Performance has declined. Last season's nine wins, a bounce back year, equaled the worst Mack Brown total pre-2009. The Longhorns endured a defensive apocalypse. They got blown the eff out by Oklahoma. The malaise has not lifted, despite a revamped staff and a reloaded roster. The coaching staff is throwing newfangled things at the wall until something clicks. Output has not equaled input since Colt McCoy was starting quarterback.
This malaise feels particularly acute for Texas. The Longhorns have lost three-straight in the Red River Shootout, the last two in flat out embarrassing fashion. They no longer play A&M, but have gone stale just as the Aggies have become one of the nation's sexiest programs. Kevin Sumlin is closing the gap in recruiting. It's no longer clear which team's boosters wear the biggest belt buckles.
Mack may not be forced out. His 2005 national title still has resonance, even though he has won the same number of Big 12 titles since arriving as Bill Snyder. Changing the name of the program's website would be kind of a pain in the ass. But we can presume he's not lingering until his contract expires in 2020. It's quite easy to see things reaching a tipping point for him, if not this year than in 2014.
Let's say Phil Steele is right. Texas has a number of returning starters. They win 11 or 12 games. Beat Oklahoma. Win the Big 12 and return to the BCS. Maybe they get another shot at the title game. Does that enliven Mack for another four or five year run? Or, will he feel, at that point, he has done enough to pass the baton with dignity?
Let's say the skeptics are right. Texas is, once again, Texas. Single-digit wins. A fourth-straight loss to Oklahoma. A clueless coaching staff and a sinkhole at quarterback. That would make it a full cycle of players through the system without substantial improvement. It would mean, at the very least, another staff overhaul. Does Texas stick with Mack for another cycle, or do both sides decide it is time to gracefully move in a different direction?
Texas could also hit the point between those scenario, a not-quite-convincing 10-3. In that case, we return to this exact spot in 2014. Change is needed. It should be soon.
Who would Texas want to hire? We don't have the Deloss doomsday list, but we can presume a few things about Texas' priorities. They will want a sure thing, someone who can get the team competing immediately. They will want someone who can handle the spotlight. They will want someone who makes a fat guy cannon-ball type splash in state to regain the initiative. Money is not a limiting factor. They could hire the first $10 million college football coach without an issue.
Maybe this is the job Chris Petersen wants to be talked into taking. We're doubtful. Even if he does, he may not be Texas' first phone call. Being a great coach is only part of the job. Do you trust a guy who actively avoided the limelight to stay in Boise to handle being the most famous person (or 2nd?) in a huge state? Does unearthing and fostering talent translate into recruiting the nation's top players to come play there? That's not to say Petersen would be doomed. But it's not the no-brainer hire at Texas that it would have been at, say, UCLA.
James Franklin could be the hottest coaching commodity in the country next winter. He could also, if Vanderbilt slips a bit in 2013, be Dan Mullen. Franklin would fire people up, possibly a bit too much for an aristocratic place like Texas. A little closer to home? Art Briles seems like a natural fit. Maybe Mike Gundy. We suspect Todd Graham may have family in Austin. Which one of those names scares the crap out of A&M, the Big 12, everyone?
Texas can make a run at anyone. They will want a sure thing, who can compete for a national title, recruit at top level, handle the spotlight and immediately reassert their alpha dog status. Why not make a run at Saban?
Would Nick Saban leave Alabama? That's the trickier question. Saban said he plans to stay at Alabama for the rest of his coaching career. He also said he wasn't leaving the Dolphins for the Alabama job, right up to the point where he left the Dolphins for the Alabama job. That may be exactly what he's planning, until something better comes along.
Saban isn't an "Alabama guy." We're not saying he's cold-hearted or without sentiment, at least entirely. But it's important to recognize him for what he is, fundamentally: a mercenary. Him coming to Tuscaloosa was a business deal. Alabama wanted to be good at football. They came to Saban with a large amount of cash and a promise to get out of his way. Worried he might be tempted to leave again, Alabama offered him an extension and more cash. He's at Alabama, because it is the best place for him to be, for now.
Can Saban afford to leave Alabama and the SEC? Absolutely. Saban is Alabama and the SEC. SEC dominance has been Florida and Alabama dominance, with cameos from Les Miles in a fluky year and Cam Newton. It has been the Saban show since 2009, as he has won three of the past four BCS titles. He has dominated outside the conference. He has dominated inside the conference. The best competition in college football is where he chooses to bring it.
Why would he leave Alabama? The better question may be what more he can do there? Winning again in 2013 would mean four BCS titles in five years. It won't get better than that. He would spend the rest of his career grinding to maintain that excellence, in the most intense college football environment in the country, and getting pilloried by spoiled fans when he doesn't. However many titles he wins, he's still occupying Bear Bryant's seat.
Saban resembles a mechanic who has spent the better part of the past decade restoring a classic car from the ground up. It's perfect. It's obsessively detailed. Is he content to just do maintenance the rest of his life? Or, is he already, at least on some level, looking on Auto Trader for his next project? Maybe something a bit less tedious than his first one? If he does look elsewhere, he does not have many options.
He's likely not going back to the NFL. Sure, he might consider it if offered. But, he's only a god in college. "Nick Saban" means different things in NFL circles. He's not a young, energetic Chip Kelly. He's old and he has a track record. He would also need a Belichick/Coughlin level salary to make it worth it. We can see Jerry Jones get that desperate. But it's more probable he makes a raid for a Kevin Sumlin-type.
Staying in college … He wouldn't leave for the SEC. Ohio State and Michigan are spoken for. It's hard to see him fitting in at Notre Dame or USC, or finding either destination a better option than staying put. The only real prospect that can match and possibly expand on what he's doing at Alabama is Texas.
Funding and decadent facilities? Texas can do that. Autonomy? Texas would be desperate enough to provide that. Salary for himself and assistants? Texas can outbid everyone. Local talent? Saban could recruit a national title team without stepping foot on a plane, if he wanted. Want attention from ESPN? They have a whole freaking network devoted to you. Paul Finebaum is 1,200 miles away and contractually obligated to discuss another conference. The fans care just that little bit less to make it more palatable.
There's no guarantee Saban would pack up and leave for Texas. But it would make for one hell of a marriage of convenience and be the most exciting college football story of this decade.