Nick Nurse Ran Away With the Coach of the Year Award, As He Should Have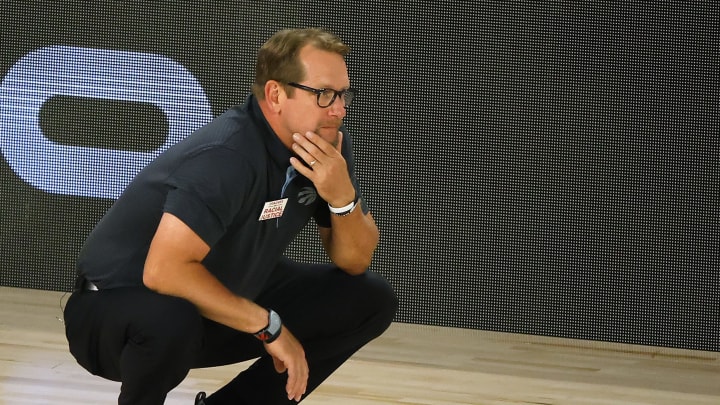 Nick Nurse / Kevin C. Cox/Getty Images
Three months after they're usually announced, the NBA regular-season awards will be given out over the next few days. The first was brought to us by The Athletic's Shams Charania, informing the masses that Toronto Raptors head coach Nick Nurse has won the 2019-20 NBA Coach of the Year award.
The voting breakdown shows it wasn't a particularly close race, either.
Nurse was the only real choice here. Mike Budenholzer somehow built off an excellent season in 2018 and the Milwaukee Bucks broke most advanced stats with their utter dominance over the course of the year-- but they brought back everybody from last year's roster, a point against in this particular discussion. The Oklahoma City Thunder were supposed to be terrible this year and ended up as the five seed in the Western Conference, a remarkable achievement by Billy Donovan. Erik Spoelstra and Frank Vogel both did very well with their respective rosters.
But nobody on this list lost their Finals MVP and a top-five player over the summer of 2019. Nurse did. When a team loses somebody like Kawhi Leonard, nine times out of 10 it means that team will bottom out the following year. The Raptors not only remained competitive, they earned the second seed in the Eastern Conference and gave everybody zero doubts they'd defend their NBA title with a vengeance. Toronto has plentiful talent, but at the end of the day, filling a skill gap the size Leonard left comes down to coaching as much as it does the players.
Nurse has engineered one of the NBA's best defenses and gotten every tiny bit out of every player on his roster. Terrence Davis and Chris Boucher, an undrafted free agent and a G-League standout, respectively, became important role players. Fred VanVleet and Kyle Lowry kept everything steady while Nurse empowered Marc Gasol and Serge Ibaka to direct the defense from the paint.
It's basically unheard-of for any team to lose their best player and not miss a beat the following season. Nurse and his guys pulled it off. For that, he deserves this award and the recognition of a job done remarkably well that comes with it.