Nick Caesiro Isn't Going to Pull a Kevin McHale and Trade His Best Player to the New England Area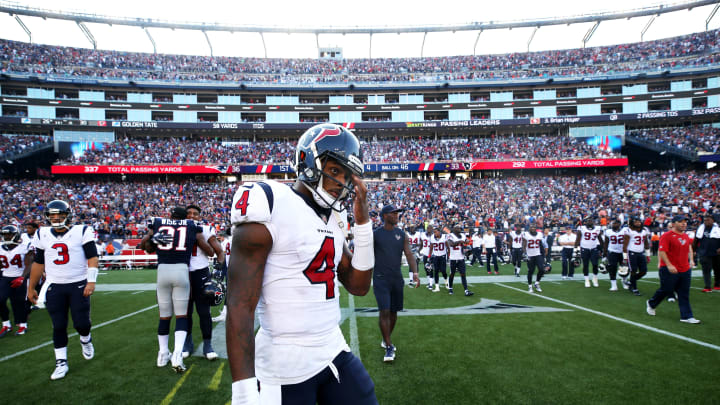 Deshaun Watson in Foxborough / Maddie Meyer/Getty Images
Deshaun Watson remains a Houston Texan against his will. In the time since the saga began, the team tapped David Culley from the Ravens as their new head coach and brought in Nick Caesiro from New England as the new general manager to lead the franchise through these troubled times. After taking the job, Caesiro has publicly said that the Texans have no interest in trading Watson. He isn't listening to trade proposals from other teams. Culley's only answer to media when asked is repeating that Watson is currently a member of the team, and, uh, that's it.
Watson is reportedly willing to go so far as to sit out the 2021 season if he doesn't get his trade. The Texans are busy posturing in public right now and (presumably) desperately attempting to mend fences behind the scenes. It remains probable, though, that they will be unsuccessful and trade their star. According to a recent Athletic report, league insiders believe that trade will happen prior to the NFL Draft, which begins on April 29.
Nothing has changed in terms of who can make the best offer for Watson. The Dolphins and Jets should still rule the top of trade destinations posts. Between the young talent and high draft picks, nobody can match those two. The Panthers are an interesting dark horse candidate because they could be convinced to part ways with a star in his prime in Christian McCaffrey in addition to high picks and young talent, but those are the only three realistic options.
Despite that, the New England Patriots have been mentioned a handful of times as a possible suitor. The team has been unusually active over the first two days of free agency, handing out gigantic deals to supporting players left and right after inking Cam Newton to a one-year deal before free agency opened up. Such activity has led some to believe that Bill Belichick is breaking from his normal way of doing things and could therefore be willing to offer up a godfather offer for Watson.
Patriots reporter Jeff Howe noted on Twitter yesterday, unprompted, that New England still had enough cap space left over to absorb Watson's cap hit this year if they ended up with the superstar. In the previously-mentioned Athletic report, the Patriots were once again mentioned as a possible trade partner. All the linking being done between New England and Watson is caused by one primary reason: the fact that Caesiro worked for Belichick for many years before taking the Texans job:
"One wild card to keep an eye on is New England. The Patriots loaded up in free agency with offensive weapons and defensive playmakers, which could make them more attractive to Watson, whose no-trade clause gives him a strong voice in where he ends up. Plus, don't underestimate Caserio's ties to New England, where he spent 20 years working with Bill Belichick, including 18 years in player personnel."

- The Athletic
All those new weapons are nice and everything, but the Patriots can't offer up those guys in a trade and have very little else to bring to the table. Any draft picks would be, at minimum, slotting in at No. 25 or lower. The offense has no young pieces to offer up and New England would have to give up every difference-maker they have defensively to even get on the line with Caesiro, which Belichick would not do as a defense-first coach.
But Caesiro worked for Belichick for two decades, so there's a chance, right? It's not like this hasn't happened before, albeit in a different sport. Such a hypothetical brings to mind Kevin McHale's decision to trade Kevin Garnett to the Boston Celtics over a decade ago. McHale was a Hall of Fame forward for the Celtics for 13 years. After retirement, he joined the Minnesota Timberwolves' front office. When Garnett, tagged as a future Hall of Famer even before his championship win in Boston, hit the trade market, McHale sent him to Boston. Presumably, his relationship with former teammate-turned-Celtics-GM Danny Ainge played a role in that.
History will not be repeating itself here. Any Patriots' offer would be substantially worse than any other realistic package the Texans could take, and substantially less than what Watson is worth in an open market. That wasn't the situation with Ainge when he got McHale to send Garnett his way. Boston sent the Wolves Al Jefferson, who averaged 16 and 11 at 22-years-old the season before; a former lottery pick in Sebastian Telfair; an up-and-coming bench scorer in Gerald Green; and two first-round draft picks, one belonging to the Celtics and one belonging to the Timberwolves. The Boston pick became Wayne Ellington, while the Wolves pick ended up as Jonny Flynn, but could have just as easily been Stephen Curry.
Now, in retrospect, that is absolutely nothing for a Hall of Fame forward who was the best player on a championship team the same year he got traded. But Jefferson's stock was extremely high at the time and if the Wolves hit on their pick they got back in the trade, the attitude would probably be different about the whole thing. It is also far from what we recognize as the going rate for a superstar in today's NBA. At the time, it was a reasonable package, especially given Garnett's reticence to agree to a long-term deal with any team that traded him.
The parallels are there. But the Patriots can't put together a package that's even remotely as appealing as the one Ainge offered to McHale comparatively. The Wolves managed to get a replacement at Garnett's position who seemed to be overflowing with potential and high draft capital, even if it came in the form of their own pick they were getting back. New England cannot offer that in any degree. They have better complementary pieces to offer, like J.C. Jackson and Michael Onwenu, but they don't have a young top-tier talent as a centerpiece and they don't have good picks. Any team in the Watson sweepstakes must have one of the two, and the best offer will probably have both.
So while New England fans are surely daydreaming their work shift away about Watson suiting up in Foxborough, no buddy-buddy energy between Caesiro and Belichick will get this deal done. Belichick simply does not have enough to offer. If he can put together a group of players and picks that are only one tier below what Miami or New York could put together, maybe Caesiro decides he trusts Belichick more than Chris Grier or Joe Douglas.
But any Pats offer would be several tiers below and the return would be unacceptable for a player of Watson's caliber. Even if Caesiro was just dying to do his former boss a favor, there's no way he can sell any New England offer to the ownership group that just hired him. It's a pipe dream, nothing more.