Latest NFL Leads
The NFL Quarterback Trade Market is the New GameStop Stock Sam Darnold. / Sean M. Haffey/Getty Images
If you missed out on the GameStop stock explosion, I'm sorry to inform you another opportunity for exponential growth has likewise already slipped through your fingers. Like GameStop, the valuation of this commodity doesn't seem based in reality but is nevertheless soaring in cost. I'm talking, of course, about the NFL quarterback trade market, where middling and subpar quarterbacks now cost the same as blue-chip inventory.
Already this offseason, we've seen former Lions quarterback Matthew Stafford cost the Rams two first-round picks, a third-round pick and a two-time Pro Bowler (Jared Goff) in a trade with Detroit. That for a 32-year-old who has made one Pro Bowl in his career back in 2014.
At least you can make an argument for Stafford being one of the top 10-15 quarterbacks in the league. But when you hear Adam Schefter say the price tag for Sam Darnold, who had the 33rd-ranked QBR in the NFL in 2020, is a first-round pick, you know we've reached full WallStreetQBBets Reddit status.
He's not the only surprising addition to the high-cost NFL QB trade market. According to Raiders reporter Vincent Bonsignore, Las Vegas quarterback Derek Carr is also a "hot commodity" on the trade market. He's so wanted, apparently, that he could be part of a "blockbuster trade" with the Texans for Deshaun Watson.
In the words of Mugatu, I feel like we're all taking crazy pills.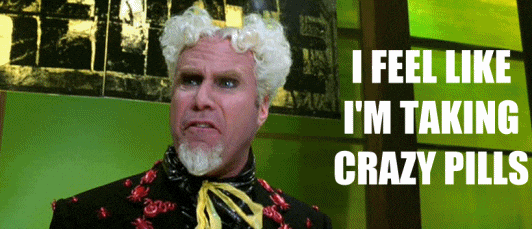 Quarterback might be the most important position in all of sports, I get it. For teams aspiring to be competitive without a high draft pick in search of a new quarterback, like the Colts and Bears, desperate times might call for desperate measures. But when Darnold is getting first-round treatment, you know something in the market is broken.
Two years ago, the Titans traded a fourth- and seventh-round pick for Ryan Tannehill. In 2017, the Patriots traded then-backup Jimmy Garoppolo to the 49ers for a second-round pick. The former has been a Pro Bowler since the trade and the latter led the 49ers to a Super Bowl berth.
In fairness, Tannehill wasn't the quarterback with the Dolphins he has been with the Titans and Garoppolo hasn't turned out to be the next Tom Brady. But just look at the difference in compensation for those players versus what's reportedly being offered now for a proven turnover machine like Darnold.
Jay Cutler commanded two first-rounders, a third and Kyle Orton in a trade from Denver to Chicago in 2009 and the Raiders traded a first- and second-round pick for Carson Palmer in 2011. But they were both recent Pro Bowl quarterbacks at the time of their trades. It's been six years since Stafford last made it and Darnold has never come close to that level. Carr has been a Pro Bowler three times and had a strong season in 2020, but could he really be the centerpiece in a trade for Deshaun Watson? Maybe if Bill O'Brien is leading the Texans again.
At this point it feels like Giants quarterback Daniel Jones, who had the 21st-ranked QBR in the NFL last season, is worth at least a first-rounder. What about Gardner Minshew, who had the 27th-ranked QBR, he's gotta be worth at least a second-rounder, right? Why not. Everything is made up anyway. These aren't real valuations. They're GameStop valuations. Only in this market, the commodity is quarterbacks and the charts are still pointing skyward.