Biggest Winners From the First Round of the 2020 NFL Draft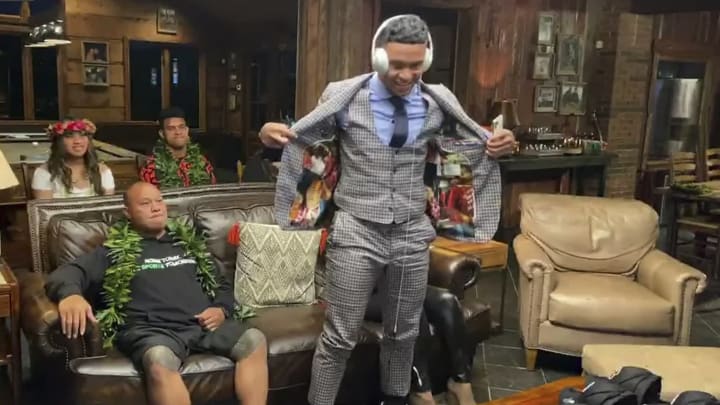 Tua Tagovailoa 2020 NFL Draft - Round 1 / Handout/Getty Images
The first round of the 2020 NFL Draft has been completed. Here is a look at the biggest winners from the draft's first night.
Cincinnati Bengals
Cincinnati's biggest need was a franchise quarterback to build around. They got that in LSU's Joe Burrow, so they are definitely a big winner. The Bengals landed the top quarterback on my board and the player who provides the most value in the entire draft given his position. As soon as Cincinnati hired head coach Zac Taylor, the front office had to work on getting a quarterback who fit his offense. The franchise did that with the highly-accurate Burrow.
At 6-foot-3 and 221 pounds, with enough arm to make every throw and elite accuracy, Burrow is the kind of quarterback you take with the first pick. He'll immediately be the franchise's cornerstone. The fact that he's an Ohio kid coming back home is just icing on the cake. The Bengals were a big winner as soon as they wound up with the No. 1 pick, but they didn't overthink it and took the right guy. That's a win.
Miami Dolphins
The Miami Dolphins played this draft perfectly. They had three first-rounders and sent out smokescreens for weeks to the point where no one had any idea what their plan was for draft night. Then they didn't panic and sat tight at the fifth overall slot to secure their franchise quarterback. Tua Tagovailoa fell right into their hands, filling their biggest need and getting the second-best quarterback in the draft.
As if that wasn't enough, at No. 18 they were able to land a future franchise left tackle in USC's Austin Jackson. Jackson as all the tools to be an anchor on the offensive line for years. He's still only 20-years old, so there's some growing and maturing to do on the field, but he gets off-the-charts marks for his character and his upside is as high as any tackle in the draft.
At No. 26, the Dolphins worked a trade with the Packers, moving down to 30 and getting an extra fourth-round pick. At No. 30 they selected Auburn cornerback Noah Igbinoghene, a corner with good size and speed who can play press man-to-man coverage but can struggle in zone. I had him as an early second-round pick so he was a decent value at 30.
The Dolphins did a great job during the first round and supercharged their rebuild on Thursday night.
Arizona Cardinals
The Arizona Cardinals had an absolute stud fall into their lap at No. 8. Isaiah Simmons was one of the four best players in this draft and probably its best pure playmaker. An incredibly versatile linebacker/safety hybrid, Simmons can line up all over the field. The Cardinals don't have a lot to hang their hat on defensively, so he's a game-changer. The fact that seven teams passed on a talent like him is mind-boggling. The Cardinals have a fun, up-tempo offense and now a stud defensive playmaker who will be all over the field.
Tampa Bay Buccaneers
The Buccaneers had one glaring need going into this draft and it came at offensive tackle. They managed to secure one in the first round, and might have gotten the best in the class. Tristan Wirfs somehow dropped out of the top 10 and the Bucs were able to maneuver to secure him. They sent a fourth-rounder to the 49ers to move up from 14 to 13 to ensure they got their man. Wirfs played both tackle spots at Iowa and dominated the combine.
At 6-foot-5, 320 pounds and athletic as heck, Wirfs should turn into a really good tackle. At worst, he could easily slide inside and be a really good guard. It's a low-risk proposition that could have a big reward for Tampa Bay.
Denver Broncos
The Broncos badly needed to find another receiver in this draft. It was clearly their biggest need. They wound up getting the best of the bunch despite picking 15th. Jerry Jeudy is one of the best route runners I've ever scouted. He's a technician who gets exactly where he needs to go with no wasted movements. He has decent size (6-foot-1, 193), excellent hands and solid speed.
Now second-year quarterback Drew Lock has Jeudy, Courtland Sutton and Noah Fant to throw passes to, plus Melvin Gordon and Phillip Lindsay working out of the backfield. That's not a bad offense.