There Could Be Timeouts During NFL Draft But They Won't Be Called Timeouts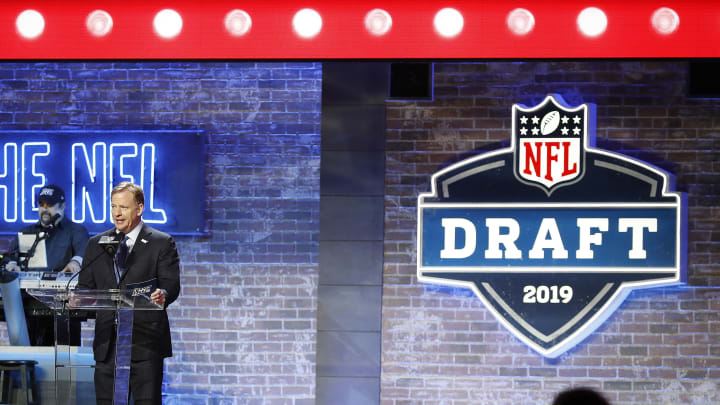 Roger Goodell NFL Draft. / Frederick Breedon/Getty Images
If there's one thing anyone working remotely during the national quarantine has learned, it's that technical snafus happen at inopportune moments. Whether it's a meeting with your boss or a conversation with a commercial partner, no one wants their feed to cut off mid-sentence, leaving both parties in the precarious position of asking, "What was the last thing you heard?"
Well, as the NFL prepares to host a totally digital draft where every member of every team will be separated (except the Jones family, I suppose), they're preparing for the inevitable tech issues we all face on a daily basis working from home.
As they do so, one idea that's come up is a team calling "timeout" on the draft and pausing everything if there is such an issue (the OHL did such a thing in sports' first virtual online draft last week). Mike Garafolo of the NFL Network addressed the possibility on-air today. At first he said there would be no timeouts. Then he amended his statement and said if there's a major issue, the league could extend the time that team has to make their pick. So in that case, there would be a timeout, but it won't be called a timeout. More of a time extension, I suppose.
We're in uncharted waters here. No NFL draft has ever been conducted in this manner. The NFL is also the largest beast in the sports world, so every moment of this draft will be dissected and scrutinized. Even the popular football term timeout, apparently.
Of course, playing this by ear and reacting in real-time to different situations is the only way to really do it. They'll do a trial run, but until Rodger Goodell steps to the podium (or whatever) in front of the camera and announces the Bengals are on the clock, no one knows how smoothly this will run or how the league will react when the first technical issue arises. They'll just do the best they can in that situation, like the rest of us are doing on conference calls every day.