Newsmax Host Claims 'A Lot of People' Thought Jill Biden's Halloween Makeup Looked Like a Hitler Mustache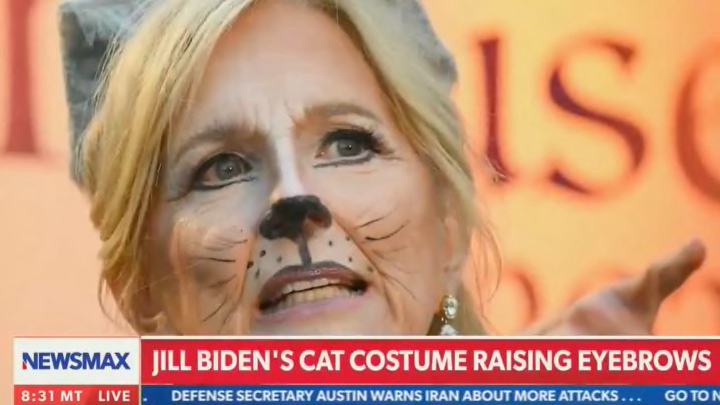 Jill Biden /
President Joe Biden and Dr. Jill Biden celebrated Halloween at the White House last night by giving out candy to trick-or-treaters. The President did not dress up for the holiday but his wife did as Jill Biden was a cat, complete with ears and a painted-on nose. A classic, safe Halloween choice.
But nothing is safe these days. On Newsmax last night, host Chris Plante ripped into the presidential couple with a couple of cheap jokes before strangely claiming that "a lot of people" thought Jill Biden's cat makeup looked like she had a Hitler mustache.
This is actually an unbelievable segment because there was extremely low-hanging fruit from that exact event -- when Biden appeared to get fooled into licking a fake ice cream cone by one of the children in attendance. Apparently not good enough.
Just like any good capital-J journalist, Plante made sure to back up his claim with proof ... wait, we're hearing he did not do that. Oh, well.