At The Times, Not Everyone Is Walking Out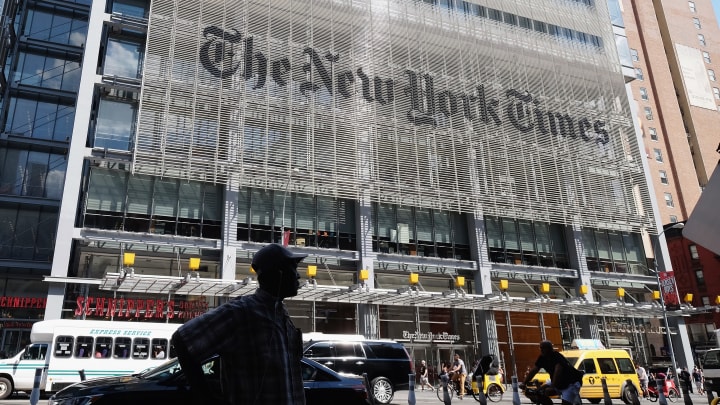 Mike Coppola/GettyImages
Reporters and editors at The New York Times are participating in a one-day strike today as talks between their union and the company continue. Forty bargaining sessions have been held since the last contract expired in March 2021 but a sufficient resolution is not yet visible on the horizon. The paper reports about 1,100 out of 1,450 employees represented by NewsGuild New York signed a pledge to participate in the outlet's first labor stoppage since 1981. Anyone who has been online has seen the pleas to not interact with the Times' online platforms in solidarity.
There appears to be some added drama surrounding the situation as Semafor's Max Tani reports two high-profile White House reporters have opted out of the action.
Chief White House reporter Peter Baker and Pulitzer Prize-winning White House correspondent Michael Shear told colleagues before the walkout that they would not be participating in the one day work stoppage, three people told Semafor.
The rift in the powerful Washington bureau reflects a lingering generational and ideological divide between many in the newsroom and a group of older unionized staff in the D.C bureau.
Ironically enough, President Joe Biden's main engagement today is a labor union event.
CNN's Oliver Darcy adds that Baker and Shear's lack of solidarity has not gone unnoticed, causing what could be described as a vibe shift.
Tani added some more context.
Shear was among dozens of staff at the paper who previously signed a letter protesting an increase in union dues for individuals making more than $140,000 per year.

But the contract fight has largely united the Times's feuding tribes, as members of the union who have at times differed over the Times's coverage of race, sex, and other cultural issues share frustrations over the economic ones. Some sources have also cautioned against reading too much into the divide, noting that the vast majority of unionized D.C. staff participated in the walkout.
If we've learned anything from all the political coverage of the years, it's to not take sides on these types of issues. An important lesson to apply.