New York Post Back Page Honors Sports Photographer Anthony Causi, Who Died of Coronavirus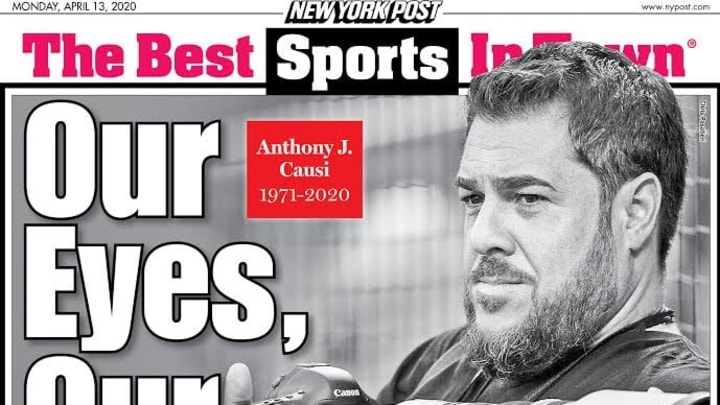 Anthony Causi. /
You often hear about how big the New York media is, how it's hard to play in this city because of the horde, and how ferocious we are in our pursuit of a juicy story.
While there's some validity to the stereotype, the missing element of it is the New York media, while large, is also a close-knit family. Cover enough Yankees or Mets or Jets or Giants or Devils or Rangers or Islanders games, and you'll get to know the people who bring the characters of those teams to life on the pages of newspapers and websites viewed by tens of millions of people.
On Sunday, one of the great members of that family passed away, New York Post photographer Anthony Causi. Causi was 48 and died from coronavirus. The Post honored him with a touching cover photo on their back page and a story written by his friend and co-worker, Mike Vaccaro.
Causi worked at the Post for 25 years, working his way up from photo messenger in 1994 to a full-time photographer. He photographed all of the local pro teams. Perhaps his most famous photo is one you've likely seen of Mariano Rivera running out from the bullpen into a sold-out Yankee Stadium. He also took a memorable photo of Derek Jeter touching the Joe DiMaggio sign on his way out to the stadium.
Causi's impact was so great that many former players, including Didi Gregorius, Curtis Granderson and Todd Frazier, as well as the teams themselves, posted statements offering condolences and memories.
Causi is survived by his wife, Romina, and their children John and Mia. A GoFundMe account has been set up for the Causi family following his passing, which you can access here.