New Lakers Coach Darvin Ham Explains How He'll Use Russell Westbrook While Westbrook Watches in the Back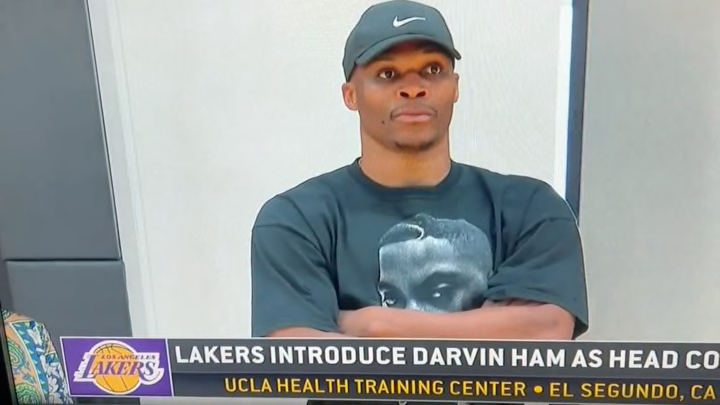 Russell Westbrook /
The Los Angeles Lakers introduced longtime assistant Darvin Ham as their new head coach today. It's widely viewed as a good hire. Ham has been around the block more than a couple times, enjoying an eight-year career as a player before entering the coaching ranks in 2008. The Lakers clearly hope he can be their version of Ime Udoka as a guy whose won championships as a player and coach, knows how to handle superstar personalities, and comes with the X's and O's acumen to make an impact immediately.
Ham's first and most important responsibility in his first season as the head honcho will be working out how Russell Westbrook fits with LeBron James and Anthony Davis. Frank Vogel was unable to do so and it led to his dismissal. The Lakers won't trade Westbrook this summer because they'd have to give up assets to do so. This year, at least, Ham will be dealing with Westbrook, and how he does that will define the 2022-23 season for Los Angeles.
So, obviously, the question was asked at Ham's introductory press conference about what he's going to do with Westbrook and how he sees his fit on the team. Ham gave a standard answer from a guy in his position, going on and on about the former MVP's talent and his general plan for ensuring Westbrook meshes with the other two stars of the organization. What made it all unusual was that Westbrook was watching in the background.
It's not weird that Westbrook is there. He attended the press conference with a few other guys. And Ham is undoubtedly saying a lot of the same stuff he said to Westbrook's face when he got hired over Memorial Day Weekend. But it's just an odd sight to hear Ham talk about how everybody is too hard on Westbrook while the camera pans to the point guard looming in the background in street clothes.
More players should attend coach press conferences. Imagine if Ben Simmons was front and center after the Sixers lost to the Hawks and Doc Rivers bashed him to reporters. An all-time camera shot in the making.