After Yesterday, We May Need to Worry About NBC Screwing Up U.S. Open Coverage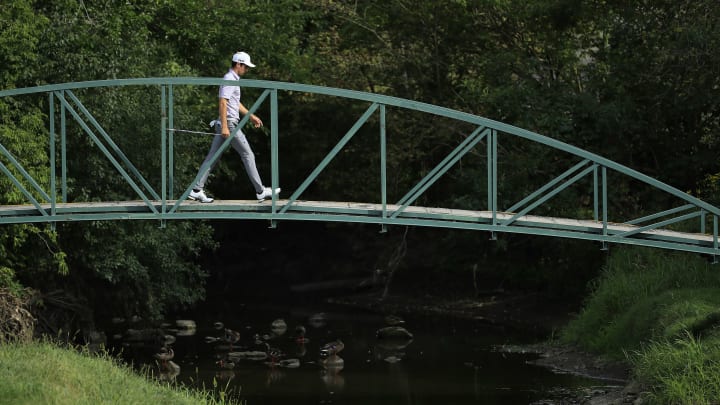 Andy Lyons/Getty Images
The final round of the BMW Championship featured Dustin Johnson, Jon Rahm, Hideki Matsuyama, and Joaquin Niemann battling down to the wire at a course finally willing to accept some mid-60s scoring after a historically stingy first three days. It was quite enjoyable as all Sundays tend to be on Tour. That is, when NBC actually deigned to show us golfers hitting golf shots. Which was quite a rarity for some reason.
In a confounding display of needless withholding, the broadcast was packed to the gills with commercial breaks, vignettes, and action-less breakdowns of the FedEx Playoffs. We knew we were in for trouble when the first 10 or 15 minutes of the network feed was about storytelling with on-course action being relegated to an audience dessert — something they'd get only if they behave.
In the interest of fairness, this is basically how golf has been televised for many years. Only recently have CBS and ESPN debuted coverage that explores the revolutionary idea of showing more damn golf. So there's that. But my Lord. We simply cannot go back. We can't.
It was borderline painful how big of a step back NBC's efforts were compared to the recent PGA Championship. Lest you think I'm overselling the misstep, consider Niemann, a 21-year-old Chilean with a bright future. Trailing Rahm by two shots and needing to birdie both No. 17 and 18 to force a playoff, the youngster lined up a long look for Step One. For reasons beyond comprehension, this pivotal moment was presented during a Playing Through with a Just For Men commercial instead getting top billing and audio.
Yikes. No one wants this. Except the sponsors, of course. And maybe there was a ton of inventory to check through. Sometimes producers have an impossible task. That doesn't make the viewing experience any less vexing.
What's done is done. But it can't be brushed away because NBC is the new home of the U.S. Open in a few weeks. They simply cannot have a repeat performance. They cannot jam in what feels like three hours of commercials. human interest stories, and explainers. That would be an abject disaster.
Look, obviously something happened to make things play out the way they did yesterday. If the bigwigs at the Peacock are reading this, one would hope that they know better than anyone that yesterday wasn't up to par. Or below par in this parlance. Whatever.