The NBA Has Limitless Options For a Second Expansion Team After Seattle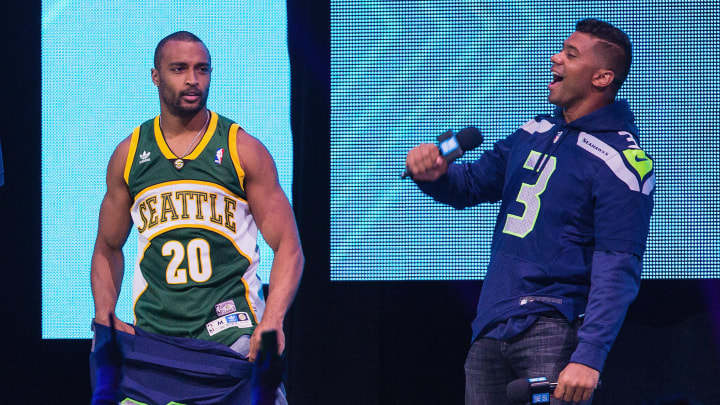 We Day Seattle / Mat Hayward/Getty Images
The NBA is reportedly considering adding two expansion teams as a way to generate some cash and make up for lost revenue due to the pandemic. The NHL probably thought they were being clever when they slapped some sponsor names on their temporary directional divisions, but the NBA is going to add entire franchises. The obvious first move would be for the NBA to put a new team in Seattle to go alongside the Kraken, but the other spot is seemingly up in the air.
Las Vegas is probably the other choice, but we should at least look at some of the other possibilities. The NBA has been in some seemingly strange places over the years and there are some other "unconventional" locations.
Previously, the NBA has placed teams in Chicago, San Diego, Buffalo, New Orleans, Charlotte and Vancouver. Not all of those worked. Some took a couple tries. Louisville, Pittsburgh, and Hampton Roads, Virginia, have never had a shot at an NBA franchise. I say the league should roll the dice with one of them and if things don't work out, they can just move. It's the third decade of the 21st century! We need to be used to this kind of thing by now!
Wherever they plant the team to go along with the New-per Sonics, the other team should probably be called the Packers. In what was news to me, I just learned there were previously two NBA franchises that used that nickname.
In the 40's a team existed in Anderson, Indiana, called the Packers. They had a problematic Native American mascot and everything. What did that have to do with meat packing? Nothing! They spent a season in the NBA before leaving for another league and then folding in 1951.
The Washington Wizards also got their start as the Packers. In Chicago. Four decades into the Bears' rivalry with Green Bay. That nickname lasted a year before they changed to the Zephyrs. A year later they were the Baltimore Bullets.
While there are a ton of bird and animal teams, there is only one team of Packers. It's an incredibly silly name if you think about it. Putting a second team in Chicago and calling them the Packers would be an incredible troll move, but would probably alienate local fans. But the Pittsburgh Iron Packers? Sign me up.
Obviously, we need a team in Seattle for our nation to ever completely look normal again, but that second franchise deserves some really careful consideration. Just don't put somewhere that people want the land to vote.
Update: Kansas City was originally mentioned as a city that never had a team. The Kings were in Kansas City from 1972 to 1985.