NBA Crosscourt Is Trending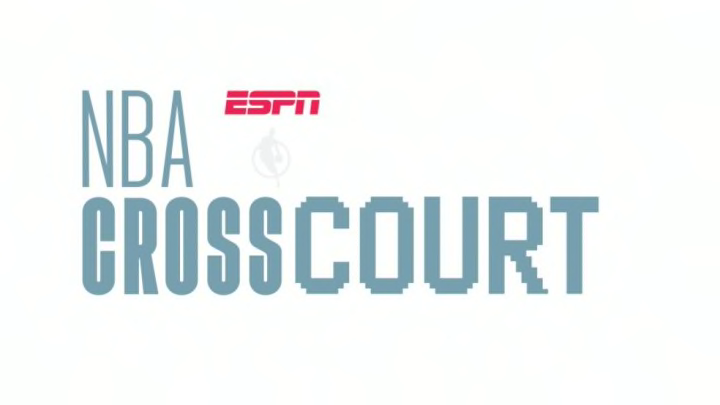 Ros Gold-Onwude is talking about the November 4th episode of NBA Crosscourt. It's her favorite to date. Now, considering the show debuted on ESPN+ less than a month ago, there's a relatively limited inventory from which to select. But she's firm in her pick because she remembers it for an in-the-moment realization that the project was beginning to find its rhythm. That she and co-host Cassidy Hubbarth were pushing the pace along with a rotating cast of NBA voices covering the league's happenings, highlights, and characters.
"It's another way to consume hoops culture and trends," Gold-Onwude explained to The Big Lead. "It's a bit like a variety show."
Film study of that episode provides supporting evidence. There was a Tim Legler breakdown of an oft-copied Golden State Warriors play to satiate the X and O enthusiast. An essay from Brian Windhorst on the potentially explosive NBA trade deadline for the wordsmiths. Extended highlights for those who like shiny plays. Ohm Youngmisuk and Nick Friedell discussing a Kyrie Irving-Brooklyn Nets soap opera that would prove to have many twists and turns ahead for fans of messy drama.
In short, there was a little something from everyone on the content-side. And for everyone on their own time. Crosscourt airs Wednesdays and Fridays at 6 p.m. ET on ESPN+. It is on-demand after that. Clips and segments populate YouTube and get second winds via social channels. It succeeds in being evergreen and ever-available for an audience increasingly inclined to manage its own attention. Which is no accident and something never far from Hubbarth's mind.
"Young people are watching YouTube, they're watching TikTok," she said. "They have their own curated viewing experience. That's what's interesting about this show. It isn't the breaking news and the day-to-day news. It's the conversations you're having about these personalities."
Hubbarth, who was hired by ESPN's digital department in 2010 and has a lengthy track record launching projects like Hoop Streams, has leaned on her experience and passions in cultivating something digestible with Crosscourt. "I took the literal backdoor through the basement," she said. "I entered ESPN in the first digital test to see how people were consuming outside of on their linear screens." When she hosted NBA Tonight she would have Tweetdeck open as well as all the games in the greenroom to see what people were interested in. That's how she and producers determined what they wanted to put in the show. It's how she preferred to follow the league and a surefire way to make it feel different.
"Even in 2022 people are trying to figure out the digital space, to have a full understanding of the impact on our viewers and how that can continue to grow," Hubbarth said. "I've aways had a strong belief in it. I've been fortunate to grow up at ESPN at a time where I could take advantage of this area had an interest in."
Gold-Onwude feels proud when she looks at Crosscourt and sees something she would enjoy from the other side of the camera. "I can sit down for 30 minutes while eating lunch and leave better informed and hear things in a way they are not usually discussed," she said.
Like all programs, there has been a feeling-out process. Experimentation with myriad segments. Like exploring player fashion with Drip or Drop. Reimagining the 2017 NBA Draft. Interviews with Kyle Kuzma, Myles Turner and CJ McCollum. They are figuring out what works well and making strides to create a tighter product.
Watch for a while and some obvious strengths emerge. First and foremost, the two hosts are having fun. And not the fake television fun. The authentic kind that shines through. "To have a new product showcasing the game and league we love is wildly exciting," said Gold-Onwude, who has continued to see her ESPN portfolio expand since joining the network full-time in February. "I'm thankful and I'm present."
The second intentional success is showcasing ESPN's vast array of NBA personalities in different ways. Crosscourt is meant to be a creative outlet to do things they might not be able to on other programs. To allow them to explore the space a bit. It's something both Gold-Onwude and Hubbarth are thrilled to facilitate. In speaking with them, it's clear that they take particular joy in sharing the ball and glory. "We have people who deserve more spotlight and deserve to have their voice heard and they really show that," Hubbarth said.
Collaboration does not stop there. They want the comment section. They want people to show enthusiasm. Feedback helps in creating something that speaks to the audience's passions. Striking the right conversational tone, where they are talking with the viewer and not at the viewer, is of paramount importance.
It's early. The beginnings of things are exciting but they also present challenges. Initial returns, however, reveal a product that is decidedly different. Trying to reach an audience in the middle. Something that feels accessible and, honestly, exciting.
If a geriatric Millennial like myself looks hard enough, they can find the same type of energy that made Inside Stuff such an attractive entry point for NBA fandom in the 1990s. That's meant as the highest of praise. What that show did so well was capture the essence of the league's superstars. With decades of increased access, fandom has morphed from team-specific to player-specific. No sport is more firmly on the cutting edge of changing habits and preferences, so it makes since that an adroit, malleable approach is required.
As we approach the one-month mark of Crosscourt, there's ample evidence suggesting it will remain nimble, forward-thinking and, perhaps most importantly, decidedly its own thing on its own terms.