How to Watch the 2023 National Dog Show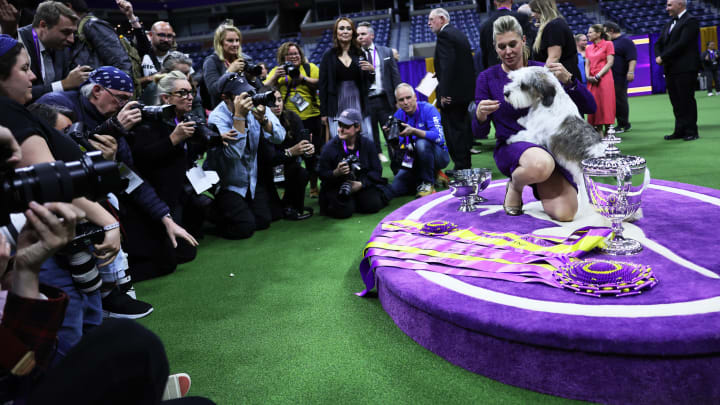 Michael M. Santiago/GettyImages
Thanksgiving traditions are underrated. You wake up from a big bar night and mainline coffee while watching the Macy's Thanksgiving Day Parade showcasing a bunch of pop acts you're learning about for the first time and see bundled-up members of the Dick Wolf extended universe wave at the crowd. Then, before the Detroit Lions game, there's a perfect window to get your annual fix of the unrivaled world of competitive dogging.
The 2023 National Dog Show begins at noon ET on NBC and Peacock and will feature many good boys and girls who are immaculately groomed and capable of following directions.
Hosted by the Kennel Club of Philadelphia, the show was founded in 1879, this is the premier dog show on the sporting calendar. NBC has televised the event after the Macy's Thanksgiving Day Parade since 2002. John O'Hurley and David Frei will reprise their roles as hosts, having co-hosted together since the National Dog Show first aired. Mary Carillo will also be back for more commentary, analysis and behind-the-scenes content.
Two hours of jam-packed action will result in best-in-breed winners and one canine will take home the coveted Best in Show honors. It's always an emotional moment when the dog hears its name called onto the world's main stage.
Last year, Winston, a French Bulldog, dethroned Claire the Scottish Deerhound who had won the two previous events. Winston had been hitting the gym very hard and practicing looking extra cute as he tries to become just the second pet to go back-to-back.