Nancy Mace Tells Prayer Breakfast Attendees She Turned Down Premarital Sex to Be There, But Will See Fiancé Tonight
"He can wait. I'll see him later tonight."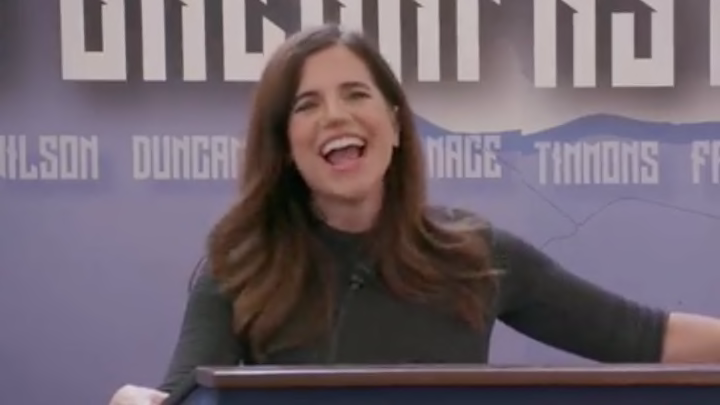 Nancy Mace serves the 1st District of the State of South Carolina in the House of Representatives. Today she woke up at 7am so she could speak at Tim Scott's 13th Annual South Carolina Prayer Breakfast. That's when her fiancé tried to pull her back into bed to have sex, which she didn't have time for because she had to get to the prayer breakfast. This is a literal story that she told to the attendees of the prayer breakfast.
Mace's fiancé is Charleston tech entrepreneur Patrick Bryant, the co-founder of a company that produces 24 karat gold rolling papers. The couple got engaged last year.
Obviously, Mace, 45, and Bryant are old enough to do what they want, but telling this exact story at a a prayer breakfast is absolutely wild. Not to make assumptions, but the audience for a morning gathering of South Carolinians with "prayer" in the title seems like the type of group that might not want to hear about a politician's sex life. The audience reaction seemed to reflect that, but Mace put them at ease by explaining she "would see him tonight."
So maybe they were cool with it. I mean, it is 2023 and you can smoke marijuana rolled in gold so the times they are definitely changing.