Marquez Valdes-Scantling Dropped a Wide-Open Game-Winning Touchdown Pass From Patrick Mahomes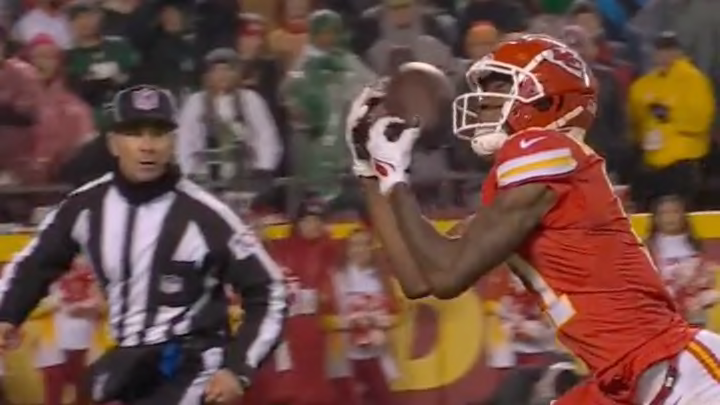 The Philadelphia Eagles beat the Kansas City Chiefs, 21-17, in a Sper Bowl LVII rematch in Week 11 of the 2023 NFL season. The Chiefs had the ball and a chance to win the game, but Marquez Valdes-Scantling dropped a long bomb from Patrick Mahomes with just under two minutes remaining in the game.
It was just a brutal drop for Valdes-Scantling, who has a reputation for this kind of thing. MVS had beaten Bradley Roby deep and Mahomes put the ball right where it needed to be and he just dropped it. He finished the game with zero receptions on three targets.
Mahomes finished the game with just 177 yards passing, two touchdowns and one interception in the red zone on a cold, rainy night in Kansas City. The conditions were so poor that it's not really fair to put the blame on MVS for this one, glaring mistake. The rest of the Chiefs had issues holding onto the ball, including Travis Kelce who dropped a couple passes and also fumbled inside the red zone.
Meanwhile, Jalen Hurts, who didn't have a great statistical game himself, hit DeVonta Smith on a long pass to set up the game-winning touchdown with just over six-minutes remaining in the fourth quarter. The Eagles are now 9-1 on the season while the Chiefs fall to 7-3, which is still good for first place in the AFC West.