Most Expensive Sports Cards Ever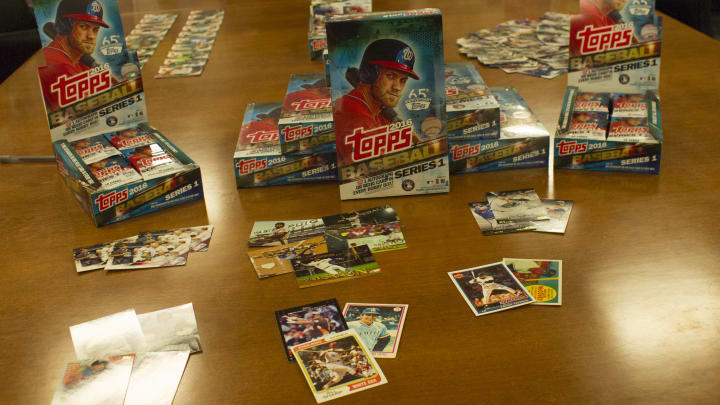 Sports Cards / Kris Connor/GettyImages
Sports cards are a currency like few others we've ever seen. Vintage, unopened charicatures of players from last century and today go for an exuberant amount of money. Collector's items will always be worth a lot to those with money to burn, but even an individual with a regularly-sized paycheck can enjoy getting into sports cards.
Not for these cards, though. Some sports cards, like the famous Honus Wagner baseball card, have been sold for millions. Millions upon millions, even. The most valuable cards are usually portrayals of sports' most famous figures. But not always!
Have a look for yourself. Here are the 10 most expensive sports cards ever sold-- and there will be a new entry soon, given the rate and price these are being sold.
Most Expensive Sports Card Sales
10.

Honus Wagner (T206 PSA 5 Edition)-- $3.1 Million
Honus Wagner card / STAN HONDA/GettyImages
The Honus Wagner cards are the equivalent of diamonds in the sports card market. The most valuable cards are from the same time period that Wagner played in (his playing career lasted from 1897-1917) and are the only playing cards to make it into the pop culture zeitgeist. Movies and television shows have mentioned it. It's the most famous sports card of all time. Not this one, though. This is one of the "lesser" editions that went for a few million less than its counterparts.
9.

Honus Wagner (PSA 3 Edition)-- $3.7 Million
Famous Baseball Card of Honus Wagner Goes to Auction / Chris Hondros/GettyImages
A slightly more valuable version of the No. 10 entry on this list.
8.

Honus Wagner (T206 PSA 3 Edition)-- $3.75 Million
Honus Wagner Batting Pose 1909 / Transcendental Graphics/GettyImages
You get the point. These cards are worth their weight in gold and more, by and large. But this one is technically tied with the next entry on the list, which is...
7.

Wayne Gretzky (1979 O-Pee-Chee Edition)-- $3.75 Million
Vancouver Canucks v Edmonton Oilers / Codie McLachlan/GettyImages
The Great One himself is our first non-Wagner entry on the list! This harkens back to the above point that, most of the time, the most valuable cards portray the greatest individuals to ever play sports. Gretzky qualifies as the NHL's all-time leader in multiple stats and with absolutely nobody in his stratosphere. For those wondering, O-Pee-Chee is a former trading card company that made cards for nearly 60 years before getting acquired, making it one of the more valuable brands in the sports card game.
6.

Mike Trout (2009 Superfractor Autograph Edition)-- $3.9 Million
Mike Trout / Stephen Dunn/GettyImages
This is an interesting exception to the rules we've seen thus far. Trout did not play in the early 1900s and thus does not have vintage value, while also not being the greatest baseball player of all time. Trout is still an all-timer, don't get it twisted, but he isn't the Gretzky of baseball. This is a good example of how the sports card trade has inflated in value in the modern day.
5.

Patrick Mahomes (2017 Rookie Auto BGS 8.5 Edition)-- $4.3 Million
Patrick Mahomes / Jamie Squire/GettyImages
Mahomes is the second-youngest individual to appear on the list, and with good reason. He won an MVP in his first season as a starter and won a Super Bowl in his second. Mahomes is well on his way to being one of the greatest football players ever, which is why his rookie card has already skyrocketed to value ranging in the millions.
4.

Luka Doncic (1:1 Logoman Autograph Edition)-- $4.6 Million
Luka Doncic / Hector Vivas/GettyImages
Here we have the youngest player to appear. Luka Doncic's stats through three NBA seasons are among the greatest we've ever seen. He is a perennial MVP candidate who can do literally anything on the court. Barring injury, he is on pace to be one of the best to suit up ever and it's no surprise one of his cards is up here.
3.

LeBron James (2003-04 Rookie Patch Autograph Edition)-- $5.2 Million
LeBron James / Elsa/GettyImages
You were probably waiting for this one, right? The man known simply as The King was inevitably going to find himself here. The rookie patch autograph is the most valuable of all the LeBron cards, and somebody paid that price. It is, though, tied with...
2.

Mickey Mantle (1952 Topps Edition)-- $5.2 Million
Chicago White Sox v New York Yankees / Jim McIsaac/GettyImages
Mickey Mantle is a name everybody who has watched a pitch of a baseball game knows. He earned a place among the league's giants when he was playing in the mid-1900s and has stayed there ever since.
1.

Honus Wagner (T206 SGC 3 Edition)-- $6.6 Million
Famous Baseball Card of Honus Wagner Goes to Auction / Chris Hondros/GettyImages
And here we have it, folks. The most valuable baseball card in existence. The Honus Wagner T206 SGC 3. It sold for over one million more than the second-place finishers in August 2021. It's the card collectors dream of having. Given the age value that comes along with this, it's hard to see any modern card topping it. But we'll see about that, won't we?