Mookie Betts Trade in Limbo After Twins Reportedly Back Out of Deal [UPDATE]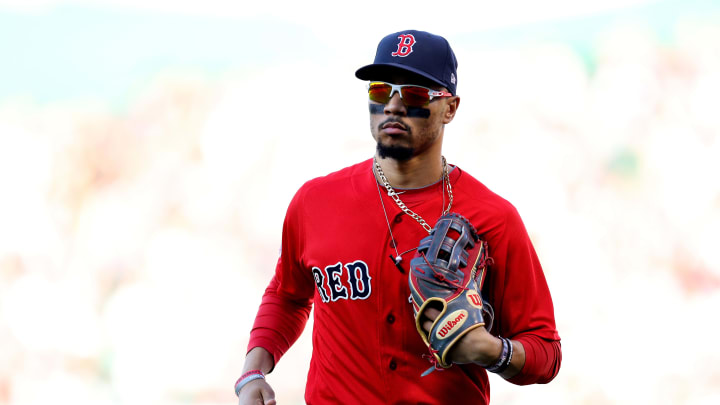 Mookie Betts, what's good? / Maddie Meyer/Getty Images
On Tuesday night, it was announced the Red Sox and Dodgers agreed to a trade that would send Mookie Betts and David Price to Los Angeles in a three-team deal involving the Minnesota Twins. The Sox would receive Alex Verdugo from Los Angeles and Brusdar Graterol from the Twins, while Minnesota would get Kenta Maeda from the Dodgers.
But concerns over Graterol's medical reports came up when the trade was on the edge of completion. The Red Sox asked for another Top 10 prospect from Minnesota to complete the deal, but the Twins weren't interested, and as of Saturday decided to sit out the deal completely. From La Velle E. Neal of the Star Tribune:
"Boston, after examining Graterol's medical history, expressed concerns that the young righthander's long-term role would be as a reliever and not a starter. So the Red Sox asked the Twins to add an additional Top 10 prospect to their part of the deal. While the Twins were excited about adding Maeda to their rotation, they were against sending another top prospect to Boston. After more conversations proved fruitless, the Twins on Saturday became resigned to the fact that they were not getting Maeda."

- Star Tribune
This, obviously, throws a large wrench into the plans here. The Dodgers also organized a trade to send Joc Pederson to the Los Angeles Angels in anticipation of the deal's completion. While the money could still work if the Twins dropped out of the deal, the Red Sox would be left receiving one decent prospect for their superstar outfielder.
The more likely outcome is that L.A. and Boston finds a third team to complete the deal; they're awfully far along to have it all fall apart completely. But as of now, things are up in the air.
UPDATE: ESPN's Alden Gonzalez reports the Twins have not officially backed out and are willing to renegotiate. Ken Rosenthal backs up that report.