Mookie Betts, David Price Traded to Los Angeles Dodgers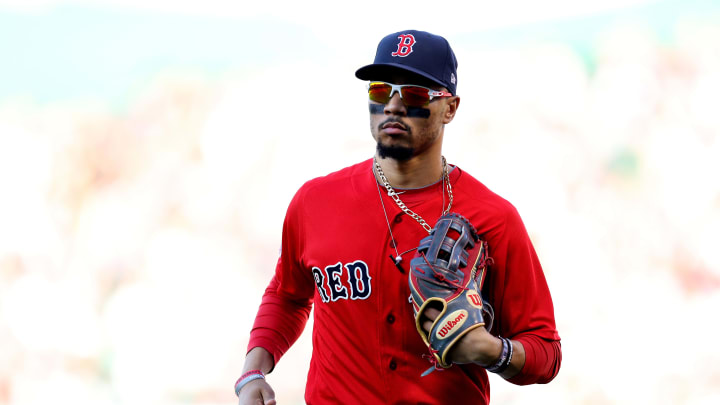 Mookie Betts, Boston Red Sox / Maddie Meyer/Getty Images
Mookie Betts and David Price are headed west, as the Boston Red Sox have reached an agreement to trade both players to the Los Angeles Dodgers.
The deal is pending medical reviews but appears to be done.
That third team is apparently the Minnesota Twins:
And the Twins will receive Kenta Maeda from the Dodgers, while passing Brusdar Graterol to the Red Sox:
Betts is arguably the second-best player in baseball behind Mike Trout, so this is a huge boost to the Dodgers. Meanwhile, the Red Sox have achieved their goal of getting out from under some hefty contracts. Price is due to make $96 million over the next three years, and Betts is due $27 million this season.
The package going to Boston will be centered around young outfielder Alex Verdugo. The 23-year-old Verdugo is a former top prospect who hit .294 with 12 home runs, 44 RBI and an OPS of .817 in 2019.
But the big news here is Betts. The 27-year-old was the 2018 American League MVP and is coming off another excellent season in 2019. He hit .295 with 29 home runs, 80 RBI and an OPS of .915. He'll hit free agency after the 2020 season, but if the Dodgers are trying to put together a World Series run this year, he's going to help a ton.
Price is coming off a down year, and at 34 has clearly seen better days. In 22 starts during the 2019 season, he was 7-5 with a 4.28 ERA, a 1.31 WHIP and 128 strikeouts in 107.1 innings. He dealt with elbow tendinitis and a cyst on his lefty wrist in 2019 and that's after dealing with elbow issues throughout the 2017 season.
While there is a third team involved in the deal, Price and Betts will wind up with the Dodgers:
And the Dodgers are only expected to pay about half of his salary:
As an addendum to this trade, Joc Pederson would go to the Los Angeles Angels if the deal gets completed:
So yeah, a lot of moving pieces here.