Rob Manfred Can Save the MLB Season With One Simple Move: Triple-Headers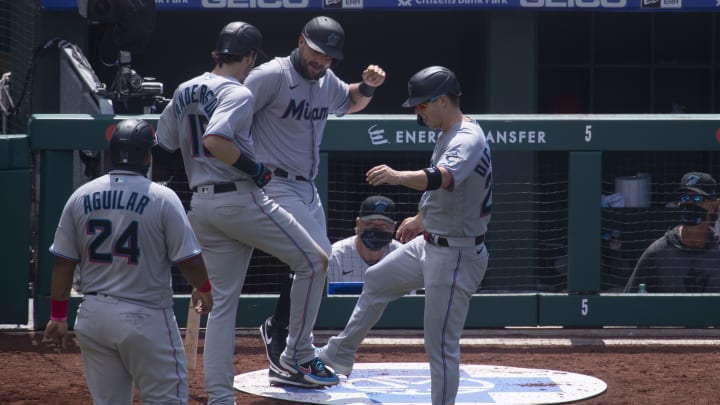 Miami Marlins celebrate. / Mitchell Leff/Getty Images
Major League Baseball is less than a week into its season and they have already hit a little bump in the road. With 17 Miami Marlins (so far) testing positive for COVID-19, MLB has decided to "pause" the team's season, with their series against the Orioles and Nationals scheduled for later in the week now postponed.
So now what? The Marlins will have at least seven games to make up and there are only three scheduled days off between now and the end of the season. The Nationals, Phillies, Yankees and Orioles will face similar scheduling issues and we haven't even had a game rained out yet. So what do they do?
Well, MLB could just throw their hands up and say that some teams might not finish a full 60 game season. It actually sounds like MLB might go this route. In a twisted way, it would actually prove Rob Manfred's negotiations before the season more than fair.
But if they want to complete a 60-game season? If they want to give fans all the baseball that their blackout rules allow? If they want to be innovative and think outside the batter's box?
Hear me out.
Triple-headers.
Think about it. If MLB committed to triple-headers, they could get entire series over in a single day. That would eliminate nights staying in hotels. Players would get an extra two days' rest between series. Plus, there would be ample time to make up any postponed games. It wouldn't matter if games were canceled because of inclement weather or... well, let's just say Florida. Florida is clearly the main thing standing between MLB and a full season.
Yes, obviously some relievers might feel a little overworked on their second or third appearance of the day, but the rejuvenating effect of two days off should be amazing. And yes, position players might feel a little weary by the sixth hour they've been standing under the sun, but again, two days off! Teams would get multiple weekends a week! Who doesn't want more weekends?
There is zero downside to this plan. It would allow teams to play 60 games each and even the expanded playoffs would take, like, two weeks tops. Short of a secure bubble, this is likely MLB's most realistic plan to complete the season.