MLB Network Set For a Wild Globe-Spanning Saturday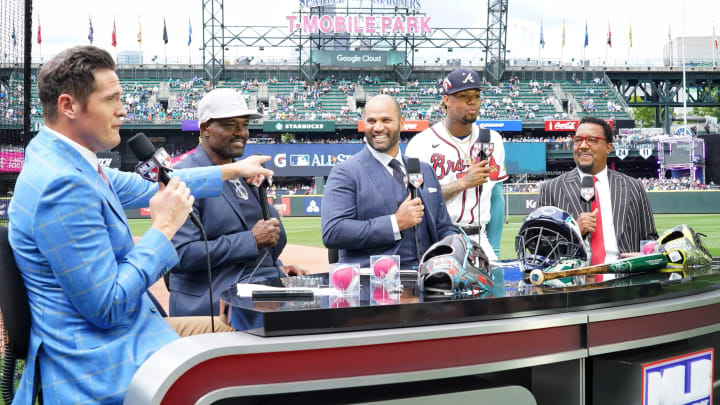 Courtesy MLB Network /
Tomorrow brings one of those special days where four playoff baseball games will span 11 or 12 hours depending on pace of play. By the time all is said and done couch cushions could develop a significant indentation and crumb-accumulation. At MLB Network's Seacaucus headquarters, they're gearing up for an unprecedented endeavor as the facilities will become the center of that hardball world. Throughout the years, in addition to the content seen on MLB Network, the facility has produced stuff for Facebook, YouTube, AppleTV+, digital shows, international broadcasts and highlight packages — but never before has it attempted to juggle seven different telecasts for an audience spanning from Europe to India.
In addition to the customary MLB Tonight pre- and postgame shows, the broadcast will be producing both National League Division Series Game 1s in Spanish, four games for viewers in the United Kingdom, and one for fans in India.
"Producing seven games in one day has many challenges but this is when [we're] at our best," Chris Pfeiffer, VP of live events said. "Everyone pulling together — remote production, technical group, studio group, graphics department and the research team. We've had this date marked on our calendar for a while and the crew will be ready."
"The creativity and innovation from our team has helped us morph into a production powerhouse, with the ability to create content in many different formats for a variety of platforms," Susan Stone, SVP of operations/engineering, added.
As part of a five-year agreement reached last year, the BBC will have a March Madness-style channel with continuous coverage of all four division series games. A dual-feed production truck with two control rooms has been set up in the MLB Network parking lot and integrated into the local facility. Talent involved includes Melanie Newman, Xavier Scruggs, Felix White, Robert Flores, and Jake Peavy.
"I am thrilled to be a part of the BBC broadcast," Flores said. "MLB is making strides in growing their footprint in Europe and there isn't a better time than the postseason to show fans overseas how special the game of baseball is."
"It's a tremendous honor to bring fans the best games, with teams bound for the World Series," said Newman, who called the London Series games earlier this year for the BBC. "The fun we have had the past year making baseball global is only going to grow this week."
The Phillies-Braves opener will be telecast on STAR India, one of potentially 22 games for MLB India on STAR linear and digital this postseason. Jacob Wilkins ,Tejas Goradia, Manish Batavia, and Aayush Sharma will be on the call. Additionally, the two NLDS games will be produced with two full production teams and control rooms while being voiced by Fernando Alvarez, Candy Maldonado, Carlos Pena, Clemson Smith Muniz and Yonder Alonso.
In total, the project will require 250 people contributing and a fair amount of air traffic control. But make no mistake, the challenges are being embraced.
"From a technical standpoint, coordinating our remote technicians with studio engineering was the most important task," Jason Hedgcock, senior director, remote technical operations, said. "Creating a homogenized team allows us to leverage the very best of both sides of MLBN to deliver unique broadcast options to our emerging fanbases."
"It's exciting and a special day here for us," said Marc Caiafa, SVP production, "We work so hard during the regular season and to be given the opportunity to showcase our sport globally in the Postseason just speaks to how dedicated our entire building is to what we do so well."
Pace yourself. It's going to be a long, exciting day — no matter the time zone.