Extremely Funny Minor League Baseball Player Tries to Draw Shooting Foul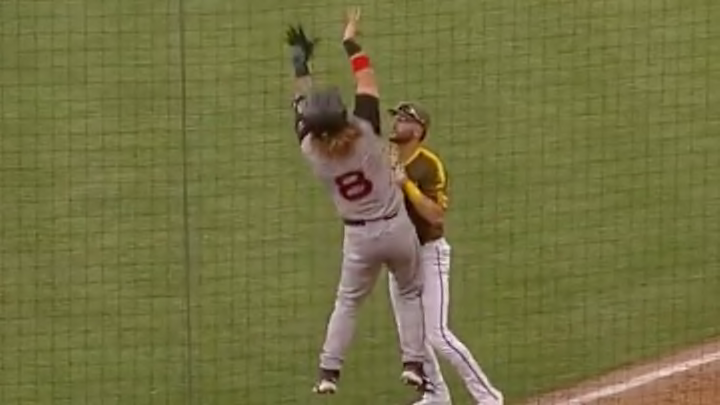 If you weren't locked into the Arkansas Travelers-Wichita Wind Surge game last Saturday, congratulations on not having a serious gambling problem. You missed the Travelers moving to 20 games over .500 on the year and putting the finishing touches on their first-half crown in the Texas League. You also missed what is perhaps the quickest bit of improv comedy ever done on a baseball field, courtesy of first baseman Robbie Tenerowicz.
Tenerowicz, who is having a fantastic season with 12 home runs, 58 RBI and a .956 OPS, rolled over a grounder to third base and had the throw beat him to first by a good 30 feet. The toss was a bit up the line, though, creating an opportunity for him to do the Javy Baez thing where you run back toward home plate. It didn't work quite as well as the first baseman realized he could simply pin Tenerowicz against home plate. But just before the tag was applied, our comedy hero somehow had the idea to pretend he was a basketball player trying to draw a foul.
This is something you might have seen if BASEketball took off as a major sport, which it still should. It's kind of blowing our minds that someone was able to conjure up the idea in the moment. Unless he's been planning it for a long time and simply finally got a chance.
Either way, great work by a funny guy who happens to have solid extra-base power.