Mike Tirico and Cris Collinsworth Got a Little Loose Towards the End of Packers - Bears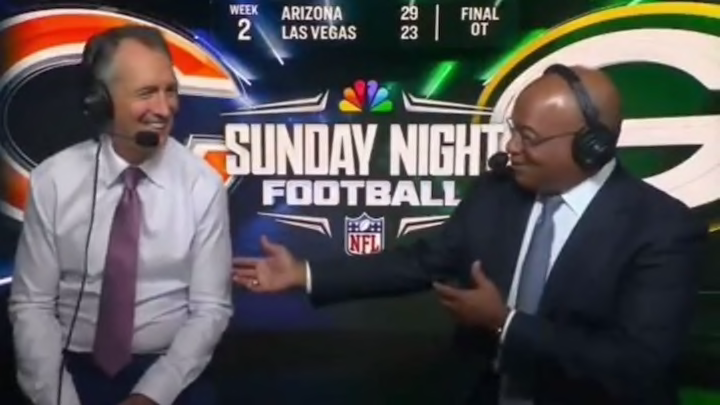 The Green Bay Packers beat the Chicago Bears, 27-10, on Sunday Night Football in Week 2. It's an event that seems to happen annually at this point and it gave the new NBC broadcast team of Mike Tirico and Cris Collinsworth a chance to let loose and explore the space of the booth as they (and the Packers) tried to kill time. First Tirico referred to Aaron Rodgers as "the deepest think you're going to find around the National Football League," which got a chuckle and eyebrow raise out of Collinsworth.
Then the duo checked out two clocks. One inside Lambeau set to the actual time and one outside Lambeau that is set to "Lombardi Time." Collinsworth took the opportunity to add "Melissa Stark time" using his telestrator. This got a big laugh from Tirico that seemed to say I can't believe you said that. Stark then jumped in to defend herself as always on time. Tirico helped her defend herself and then Collinsworth then blamed the comment on his doppelgänger, which made Stark as if someone named Frank was in the booth. Poor Frank?
Finally, as the broadcast was ending, they showed a couple remaining in the stands that consisted of a espondent Bears fan finished his beer while his Packers' fan companion consoled him and finished her hard seltzer. Tirico's final call of the night was, "Packer fan wins. Bear fan... eh, it's not that bad." He then said something like, "we're right behind you," as he said goodbye.
Certainly an interesting end of the broadcast.