Mike Ryan Ruiz Shirtless and Obnoxious But At Least He's Alive After Miami Makes Final Four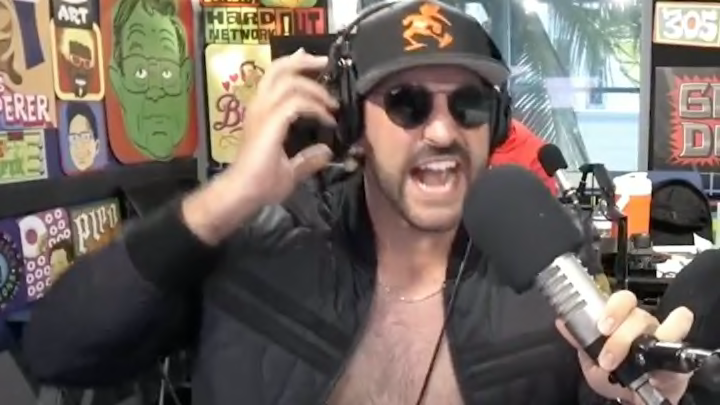 When the Miami Hurricanes put the finishing touches on a comeback victory over the Texas Longhorns last night to capture the school's first Final Four spot in history, fans of The Dan Le Batard Show with Stugotz were conflicted on a few fronts. On one hand they were happy for longtime executive producer — and who knows, maybe future or current executive producer — Mike Ryan Ruiz to get to experience such a rush of sports fandom, especially after the Hurricanes relinquished a halftime lead to Kansas last season in the Elite Eight. On the other hand, the show's soulmates over at DraftKings could not legally set a line on the Golden Cane being 100 percent Miami annoying for the foreseeable future because that was the lock of the century.
On a third hand, perhaps it's a great victory for everyone that we have proof of life from Ruiz this morning because him stumbling into the shipping container was coin flip. As it always should be after such monumental secondhand triumph.
Some would say he has proof of life of his face. Or 40-to-life on his face.
A nation braces for four hours of ... this.
The man looks like Dr. Ian Malcom after a run-in with a T-Rex. They share a common desire and that singular wish is must go faster.
This might only be the beginning. A week from today we could be sitting here with Miami in the national title game. A day after that they could be champions.
Scary, exciting, and loud times ahead. Those sunglasses may get a chance to put on an MVP performance when all is said and done.