Mike Greenberg Tears Into Chicago Bears For Organizational Ineptitude Yet Again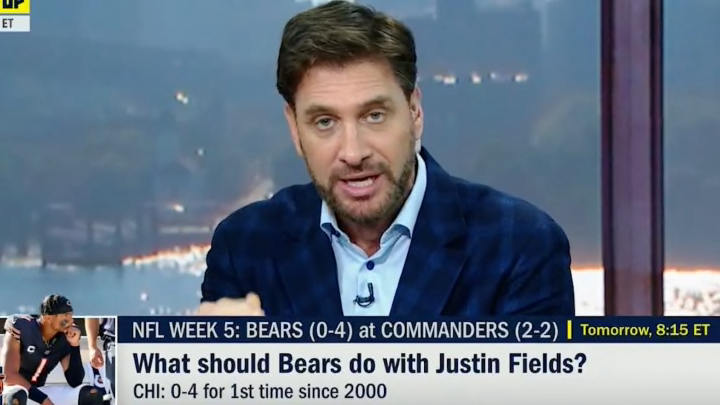 Mike Greenberg /
There are few members of sports media more disgusted with the Chicago Bears than Mike Greenberg. Sure, there are plenty who look down upon the organization's utter incompetence and express weekly disappointment regarding how badly the higher-ups are failing Justin Fields. But when Greenie talks about the Bears, you can hear the loathing in his voice. He just cannot stand what the team is doing.
An excellent example of what I am talking about happened on this morning's edition of Get Up. The crew was discussing how the Bears should move forward with Justin Fields after starting 0-4, with each loss increasing the likelihood that they will be in a position to draft his replacement. Greenberg used the opportunity to bash Chicago for the ineptitude it has shown in the last decade and express his firmly-held belief that the best thing for Fields would be to get the hell away from there.
If this sounds familiar, that might be because Greenberg ripped into the team with a similar tone for "ruining" Fields only two weeks ago. Yet things have gotten so much worse since then that it's worth repeating his opinion and upping the stakes. If the Bears keep losing it is not impossible that we get Greenberg calling for the disbanding of the organization with a genuine tone later this season.
It is basically impossible to disagree, too. The Bears have stunk for a long time now. Outside of that one insane season where Matt Nagy and Mitch Trubisky managed to lead the team to a 12-4 record before getting bounced in the Wild Card round, Chicago hasn't been anything resembling good since 2012. In fact, other than a few blips on the radar, the only period of sustained quality football this century came under Lovie Smith. Otherwise the team has shuffled through head coaches and GMs who have taken turns making the worst decision possible at every available opportunity.
So, yeah, it probably will be best if Fields gets out of there. Unfortunately that does not change the fact that the Bears will probably ruin another young quarterback once he's gone. Maybe they'll stumble into competency. But probably not. And we'll get more contempt from Greenberg on television for years to come.