Mike Greenberg Called a 'No-Talent Prick' By Fred Toucher During Radio Rant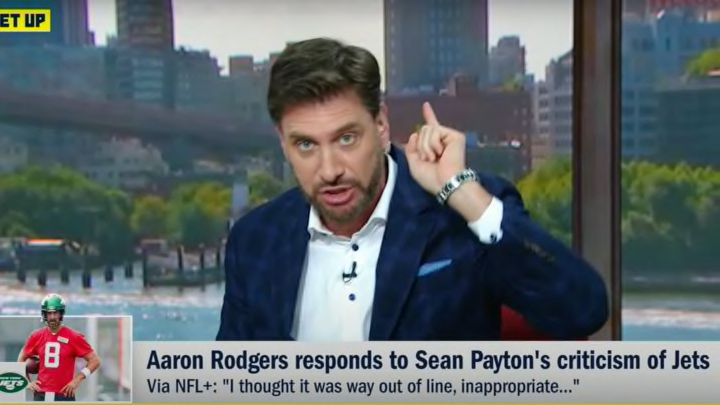 Mike Greenberg /
Mike Greenberg unexpectedly became the target of an angry rant during Tuesday's edition of Toucher and Rich show on Boston sports radio. Greenberg ended up in the crosshairs thanks to an interview he did a month ago with Molly Fletcher as part of her Game Changers series on YouTube. In that interview Greenberg mentioned the importance of writing teasers in television before commercial breaks in order to keep the viewers hooked.
This was apparently enough to set off Toucher, who called Greenberg a "talentless prick" before going on to slam the Get Up host for a few more minutes. It sparked off a roundtable discussion of all the bad things everyone on the show has heard about Greenberg. It was pretty wild!
The conversation wandered to Greenberg thanks to a discussion about the New York Jets and went south quickly. Everything kicks off at the 27:00 mark of this podcast, and the relevant comments from Toucher are transcribed below.
There was an interview that Greenberg did that was highlighted on Facebook with an industry magazine. The industry thing that me and Felger talked at two years ago in New York. Greenberg, this was his thing-- and he's dropping the facade when he's talking, this is not friendly Greenberg, this is business Greenberg. Listen to this no-talent prick. The guy who's making all this money, listen to his advice. 'If you're not writing out your teasers, you're not hosting a show. You could be the funniest guy, the most interesting guy, you could know the most about sports, but it doesn't mean anything if you're not holding people over the breaks.' And I said, that is tremendous advice. If you're the most interesting, funny person in the world, really it just comes down to your teasers. What a hacky, dumb thing to say. Talk about a guy justifying his career. So that's your career? You've written out teasers for what's coming next?
After that was when the rest of the crew chimed in with their own thoughts on Greenberg. They can be generally described as "unflattering." Greenberg was accused of being devoid of talent before they started to grouse about his ESPN salary, capped off by one final scathing comment from Toucher: "All you need is one person, assuming it's the right person, to like what you do. And that's Mike Greenberg's career. Someone at ESPN really likes him because I don't know anyone else who does."
An extremely random media beef and one that will probably not go any further because it's not like Greenberg is going to take a minute on Get Up to fire back. Clearly Toucher has a sensitive spot about Greenberg because this was a lot to yell about over a fairly innoucous quote about working in television.