Mike Greenberg Once Raced to Relieve Fill-In Mike Tirico During 'Mike & Mike' Out of Fear of Being Wally Pipped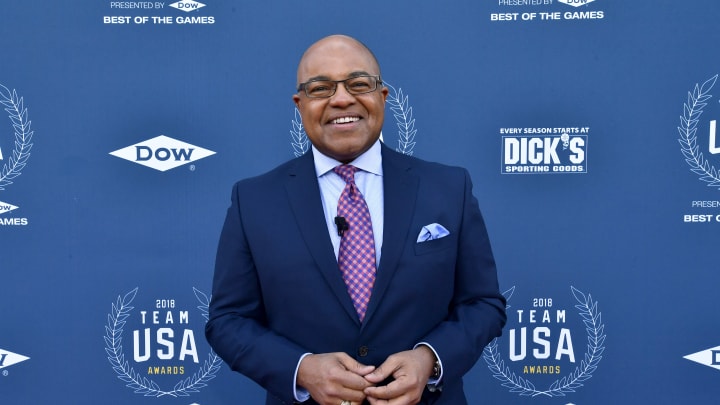 Larry French/Getty Images
There's nothing particularly revelatory in a story about Mike Tirico being skilled at a broadcasting job. In fact, it's the definition of a dog-bites-man situation. But it is funny to picture a road-weary Mike Greenberg scrambling to get to a remote set in Cleveland because his emergency fill-in was doing so well that he feared the brass would simply replace him.
The year was 2015 and the Cavaliers were in the NBA Finals. Mike & Mike was to take place at Progressive Field because corporate synergy rules everything. Except Greenberg's flight was canceled and he had to fly out early in the morning. Tirico, already on-site for ESPN Radio, magnanimously agreed for the 6 a.m. call time and performed more than capably.
Which caused a bit of a problem for the usual co-host, who was racing against time to get there for the show's final hours.
"I put the show on to listen to it," Greenberg recalled on his I'm Interested podcast (6:00 mark) . "And I'm listening to Mike Tirico hosting my show and about 10 minutes in I turn to the guy driving and I said, 'Drive faster, this guy's better than me.' The only time in my career, Tirico, that I've ever said that to anyone. I said, 'Get me to the stadium, they are going to replace me.'
In Twitter parlance, people forget that Tirico was A PROBLEM for talent who took sick days or vacation and didn't wish to be Wally Pipped. I have an odd personal memory of watching this simulcast in real-time and wondering if Greenberg was going to make it, knowing full well he was pulling a Doug Mirabelli through Cuyahoga County.
Simpler times. And a very relatable situation. Can't tell you how many times bloggers have rushed back to clam content on Slack after someone turns a memorable phrase on their typical beat. It's happened ... at least twice.