Mike Greenberg Needs to Chill Out About the Jets Because He's Already Making Coworkers Uncomfortable
Mike Greenberg is out of sorts after one bad Jets practice.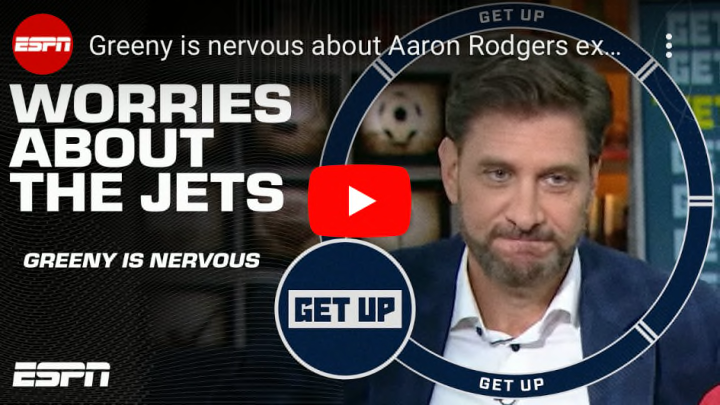 The New York Jets season is still weeks away from actually starting, but prominent fans like Mike Greenberg are already in their feelings after one joint practice where the team experienced a single failed two-minute drill. The morning after the Aaron Rodgers-led offense struggled against the Carolina Panthers defense Greenberg was grilling any football expert he could get his hands on during the Thursday morning edition of Get Up.
Greenberg started by starring daggers at Dianna Russini to the point where he leaned past his laptop and Russini started making defensive hand gestures before stopping to say that she felt like Greenberg was burning lasers through her.
Greenberg then left a speechless Russini to get up close and personal with Harry Douglas, who suggested the Jets trade for Rodgers old left tackle David Bahktiari. Greeny really liked this suggestion and immediately patted Douglas on the chest and said, "Yes!"
After Russini threw some water on that because there are no indication this is actually a conversation the Jets and Packers are having, Greenberg makes his biggest move, getting up to walk around Douglas and put his hands on Damien Woody. You can see Greeny slowly break physical contact the more Woody talks about the realities of the situation. By the time he tells him to be patient and see what happens, Greenberg has completely withdrawn and begun to complain about complacency.
This man was tearing off his jacket and possibly wiping away tears while putting on a jersey just a couple weeks back. It is going to be a long. uncomfortable Jets season. Especially on the Get Up set.