Was Greg Schiano's Odd Halftime Interview About Michigan Stealing Signs?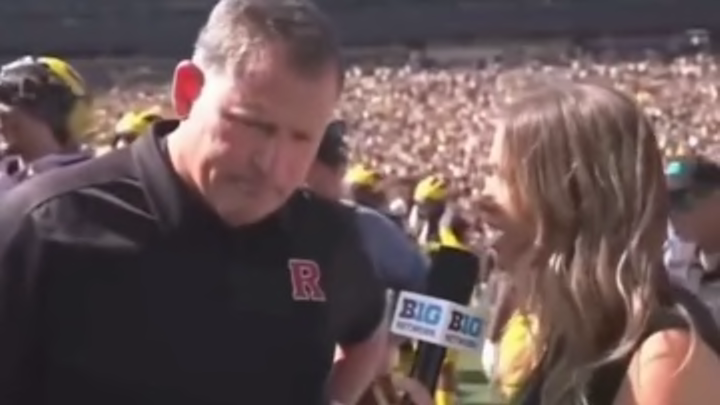 Earlier today, Yahoo Sports reported that the NCAA is investigating Michigan football for allegedly violating rules that prohibit teams from scouting, in-person, future opponents.
Teams are normally provided extensive video footage to scout opponents. At issue, according to sources, is whether Michigan used unnamed individuals to attend games of both scheduled opponents and possible College Football Playoff opponents in an effort to gather information on the signs they use to call both offensive and defensive plays.

Sign stealing is not technically prohibited and has a long and colorful history as part of the game. Scouting opponents in person has been prohibited since 1994. Whether the NCAA believes Michigan was using staffers or others who may be loyal to the program is unknown. So, too, is whether information was detailed via video or some other means or if head coach Jim Harbaugh is involved.
Two of Michigan's opponents this year told Yahoo that they became aware the Wolverines knew their play signs, which, obviously creates quite an advantage on game day. Whatever happens next is up to the investigators and will rely on what type of evidence they turn up. Or lack of evidence. No need to jump to conclusions.
But it is interesting to read this in light of an odd halftime interview Rutgers coach Greg Schiano gave to the Big Ten Network during the Scarlet Knights' 31-7 loss to Michigan in Ann Arbor on Sept. 23.
"Well, there's some stuff going on out there so we just got to slow it down a little bit," he said. "There's some things going on that aren't right as well, so we'll talk about how to handle it."
At the time Schiano's comments did not make a ton of sense. If Rutgers is one of the opponents that got hip to this thing, then one can certainly understand why they didn't think it was right.
The good news for Michigan is they are an incredible team and are playing Michigan State on Saturday. And they certainly won't need any heads-up on what the Spartans are doing to take care of business.
UPDATE: A person with knowledge of the situation told NJ Advance Media that Schiano's comments were about the first-half officiating.